Corridos
Singers: Larry Hernandez, Gerardo Ortiz, Noel Torres, Regulo Caro, Komando Negro,Grupo 360,& Codigo FN, etc.
Corridos are mostly known for speaking about the truth of life. They talk about drug cartels, narcotic situations and anything against the laws.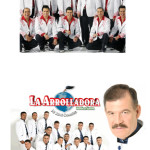 Banda
Singers: La Original Banda Limon, Los Recoditos, La Banda Recodo, La Arrolladora Banda Limón, Jenny Rivera, Kevin Ortiz,Banda Carnaval, Espinoza Paz etc.
Banda mostly deals with Rancheras, Cumbias, Baladas, and Boleros, etc. Banda mostly contains 10 or 20 members that usually have a lead singer with trios. Banda usually sings about their losses and romance. This music influences students to hear it because the lyrics can be relatable. Banda has its own chain, the singers in this genre connect, making Banda popular and catchy to the Spanish community.
Song of the week
Banda la Arrolladora: Cabecita Dura