By Diana Aceves and Allen Castillo
As Ms.Reyes' pregnancy advanced, she had to take time off of her job to take care of her baby and herself. With her absence at Animo Pat Brown, Mr.Hartford hired another counselor, Jacqueline Nguyen, to fill her void.
APB's principal, Joshua Hartford, had to find a person that was capable of taking responsibility of the juniors and seniors, academically and emotionally.
Many were interviewed, but Ms.Nguyen captivated his attention and respect, "She had experience working with high schoolers going through the college application process…she had a lot of knowledge about what it takes to go into college, the applications, the deadlines, and also the challenges the students that will be the first to go to college may face," said Hartford.
He believed some of her best qualities are that, "She's a very hard worker, she's quick to ask questions and learn new parts of this job, she really believes in how important a college education is", said Hartford.
Prior to becoming the counselor, Ms. Nguyen worked for a non-profit organization helping students get into college. Her passion of helping students led her to apply to fill Ms. Reyes' position. She was informed of this position through APB's sophomore English teacher, Ms. Lee.
"It aligned with the passion in my heart to allow students to get into college and succeed, I really love talking to students and getting to know them" said Nguyen.
She chose to become a counselor because she wishes she had someone in high school to help her through the process of life and college.
Aside from helping students achieve their dreams, she loves sports and music. She used to play basketball in her four years of high school and in college. Apart from knowing her athletic past in high school and college another interesting fact about her is her taste in music. Currently, her favorite genre of music is acoustic pop.
She works alongside APB's freshmen and sophomore counselor, Ms.Ramos.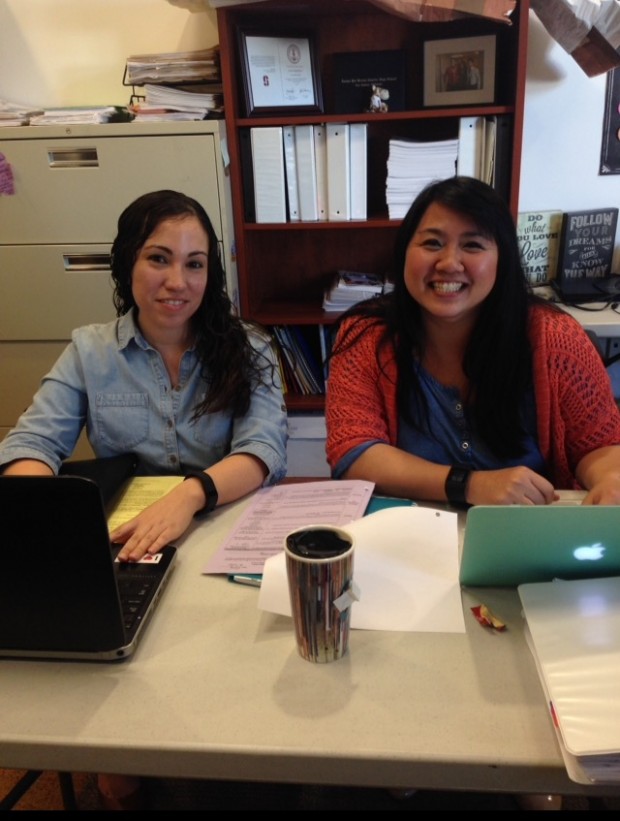 She believes Ms. Nguyen is doing an exceptional job, she is "very grateful that [Ms. Nguyen] is filling in for Ms. Reyes," said Ramos.
She describes Ms. Nguyen as diligent, outgoing, patient and approachable with the students.
She enjoys working with her because they're "both team players and team work is very important," said Ramos.
Aside from her co-workers complimenting her on her extraordinary job at APB, students have also began to admire their new counselor. Seniors, Stacy Baron and Anthony Valdez, both have grown a close relationship to Ms. Nguyen.
"She has helped me with FAFSA, college board and college in general," said Stacy.
"I love the new counselor, she's very funny and she has given me advice for next year," said Anthony.

APB is extremely grateful to be able welcome to Ms. Nguyen into the family. We look forward to many extraordinary moments with Ms. Nguyen.