By: Alexis Sanchez and Kimberly Herrera
With the end of the school year approaching, APB students have begun to prepare for finals. Juniors are especially feeling the pressure this year because of all of the important test they have to take. This year some juniors are taking up to three AP classes, but all juniors are taking the SAT, SAT Subject Tests, and the SBAC.
With junior year being one of the most important years of high school, students are stressing over maintaining a strong GPA. Students not only have to do homework and schoolwork, they also participate in after school programs, and some, even jobs.
"I feel the stress. I feel it in my students in guidance and in my AP Class," said Miguel Sandoval, APUSH and US History teacher. "Students are worried about the tests because they have such a high impact on the rest of their life."
APB's juniors strive for academic success.  Many students have bought AP test prep books in order to boost their scores up. Students are fearful of not passing the AP exams, therefore with these last two weeks students have been cramming so much information.
Octavio Gallardo said, "I feel pretty nervous and stressed out. I feel like it's too much information to cram in two weeks. "
Others stay for guided study or even come to school early in the morning or on the weekends to get the practice. Some teachers make students come in on the weekends for a full practice tests. APB teachers
have long been preparing students for these college level tests.
Dasie Gervacio, is one of the few juniors who is taking three AP classes.
"For the AP US History test I come after school to review notes, packets, and flashcards," said Dasie. "I am not trying to cram it all in the night before, but instead to extend it over the next week."
Similarly, Maria Hercules said that one way that she is preparing for the AP Spanish test is by completing the practice tests that are given to her during class.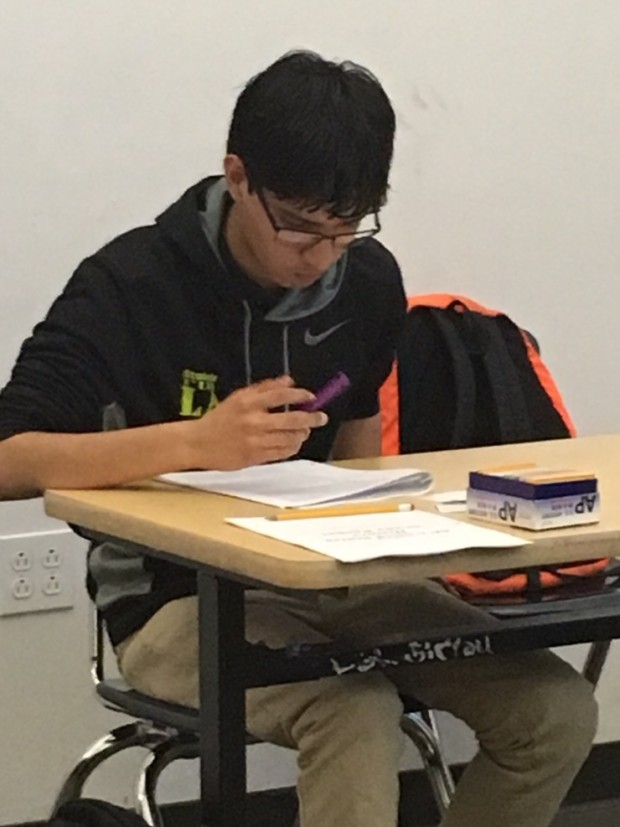 The SBAC is an especially important test for the juniors acting like "The new CAHSEE." The SBAC determines what classes students will be able to take in college. Teachers have advise students to try their best on this test because with higher scores, students will not need to take general education classes.
Many students are worried that they will not perform well on the SBAC because they haven't had much practice. The juniors have only taken about two practice SBAC tests.
The juniors will be taking the SAT on May 7 and those who signed up for the SAT Subject Tests will be taking them on June 4. All the juniors have been preparing for the SAT in guidance with the help
of College Spring and mentors. Additionally, they have been taking diagnostic test to see how much improvement they have made with their mentors. Others attended programs outside of school that help them with the SAT.
Carlos Rodriguez attends Minds Matter which provides him with SAT practice and help.
Overall, the end of the year is a very stressful time because of all of the tests that have to be taken. Teachers are doing the best they can to prepare their students for these difficult tests. Even though these tests are taken around the same time, students should try their hardest on these test because they have a huge impact when it comes to applying to colleges. Good luck to anyone taking any of these test!