By: Anndrea Vasquez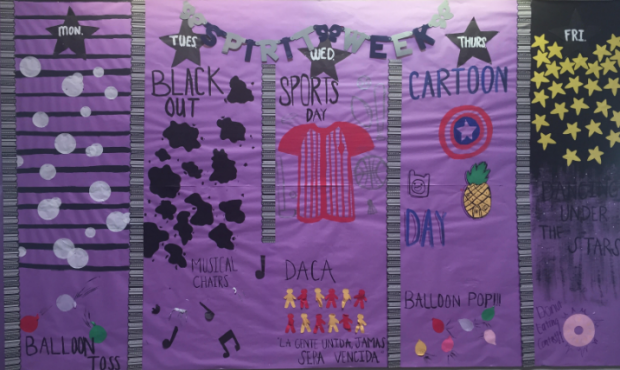 Esmeralda scrolls through her Instagram timeline, captions read "Hoco Week 2k17, Dress like a Rapper Day!" with a picture of two girls in gold chains, baggy shirts, and fake grills. Others read  "Meme Day at school today!", where students are dressed as their favorite memes. As she continues scrolling, she laughs to herself and wonders when her school will start their spirit week, and thinks about what the themes will be.
The upcoming week approaches and Esme sit in Guidance, the long list of slides is everlasting, but she peeks a "Spirit Week" title before her teacher starts the long presentation and she becomes excited to see what's in for the long-awaited week. Her junior-representatives get to the Spirit Week slide and she see's the next week's list. Her mouth gapes and her face crumbles in confusion. The list is Polka Dots/Stripes, Black on Black day, Sports Day, and finally, Cartoon Day. Esme was more than disappointed, she was upset that the only time to show off her so-called "School Spirit," she had to wear khakis, not only that, but the themes were nowhere near as fun or unique as at other schools.
One main argument for wearing khakis during Spirit Week is the idea that blue jeans are distracting. I would be thrilled to hear how khakis don't distract students, when they are already wearing bright, flamboyant, out of the ordinary shirts. Would blue jeans really put our education at fault for a week when an array of colorful jerseys are already in our view? Student council represents the student body, and after speaking to several members, khaki with spirit week was not on their initial agendas. So, why did Admin burden us with a khaki spirit week?
It appears the true purpose is not to prevent us from being distracted. I took to Ms.Tran to find out, and she said, "It would undermine the perfect attendance free dress on Friday because if students were just wearing jeans the whole week it would be free dress for the entirety of this week." She is simply stating that jeans would give the students a free dress the whole week, which would not be a disliked choice. It is only one week, and there is no harm in jeans for one week, and we've had jeans the past few years.
Now, there may be a reason why this year, in particular, the student body was restricted to khakis. Ms. Tran also said, "Students on the Spirit Committee (Student Council) did not give us (Administration) a convincing argument that wearing jeans would show more spirit." This is a valid point, but student council member, Jonathan Gonzalez said, "I think why they (Spirit Committee) didn't argue, is because we're told not to argue with them because whatever they say, they say and because that just gets on their bad side."
Jocelyn Lemus, another member of student council, said: "If you say an idea, she might agree with you or not, and you can't really fight against her (Ms. Tran) when she says no, it just completely a no." So how can student council provide a strong argument when they're told not to? It seems like there was some sort of misinterpretation or a rule against providing an argument that Ms. Tran stated she asked for.
The main disappointment was the khakis and we can only hope that next spirit week, student council gives a good argument for blue jeans that admin claims to want. It sounds like student council was scared off, but it's easy to come to the conclusion that what Tran says, goes.
It seems like student council couldn't come up with better ideas, but that's not the case. Freshmen, you may be unaware that the school spirit week this Fall, was the exact same as the ones last year and has been the same the past couple years. According to, Jocelyn Lemus "I feel like it's always repetitive, but they're pretty easy for people to participate in." Jocelyn dislikes that they're the same most of the time but thinks that the themes are simple enough to make people want to wear them. When asked what types of themes she would like to see, and what got her most worked up, Jocelyn said it was pajama day.
She isn't the only one urging for pajama day. 11th grader Betzy Antonio said she'd love to come in pajamas. The list of ideas for spirit week went on, 9th graders Aaleiyah Ramadan, Valeria Flores and Mia Mora said they'd like to see a Coachella day, meme day or dress up like an actual character day instead of just wearing a shirt of one. Spirit Week ideas aren't limited, but the ideas that go through admin are.
Of course, the entirety of Spirit Week wasn't horrible, many students said they enjoyed the lunchtime activities and the DACA march was something new and interesting. So that's it. Spirit Week was a large school-wide disappointment.
If things don't change, you'll find an article just like this one next Spirit Week. Let's hope they do.