Turning Red?
A Disney Pixar movie called Turning Red became one of the most commented and controversial movies in 2022, but in our opinion this movie is more of a lesson to children rather than a "inappropriate".
By Kelly Xhurape and Yocelin Flores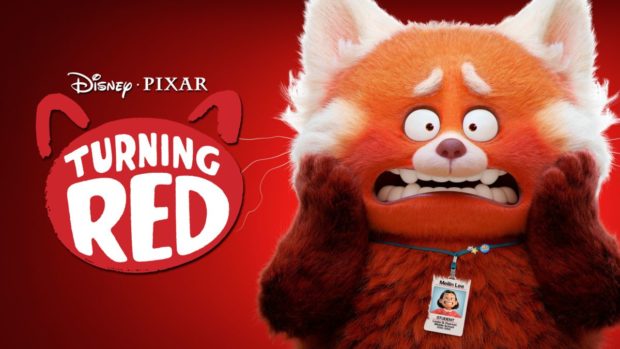 The movie Turning Red for me was more of a recap honestly, of how I felt when I was going through that stage of puberty/adulthood. I would be so attached to my mom the whole time like Mei Mei. I couldn't decide anything without my mom because she wouldn't allow it and once I decided something for myself she'll see it as rebellion against her. I honestly like the movie because I think it's one of the first Disney films that doesn't use fantasy life stories and uses real life stories based on real world examples.
In my perspective this movie gave me mixed emotions because it shows the reality of what women go through, which is something helpful for other girls who are going through it and also the family trauma that she lives in. In my opinion parents shouldn't think this of an inappropriate movie because overall it's something natural that the human body suffers which is the change of hormones, also I liked how they put this kind of lessons into a cartoon characters so the kids could have a better understanding of the movie
The movie Turning Red presents a 13 year old Chinese-Canadian girl called Meilin Lee as "Mei Mei", a cute dorky and funny character that everyone can relate to. In this movie it shows us the different kinds of topics she is living through such as family relationships, generational trauma and puberty. Throughout the movie, there's different events where they present characters with very unique personalities compared to what we are used to seeing in Disney movies, a group of friends that help her out throughout this journey.
All people have seen a Disney movie once in their life, most of these movies are rated PG meaning small kids can watch the movie. The audience are used to fairy tales and fantasy stories from Disney, but in recent years they have changed the formatting in their stories. As we can see in movies like Coco, Mulan, Luca, Raya the last dragon and Encanto, they all each have a message or lesson towards the audience and the recent movie Turning Red couldn't be the exception from it.
In her story we see how she experiences a change of hormones like many kids nowadays that are at the stage of puberty, but the difference between her and normal kids in her school is that she turns into this red panda whenever she feels a moment of excitement. She has a very strict mother that tries to keep her far away from the real world by not allowing her to do anything that doesn't follow her "family traditions". Kinda if the mom of Mei Mei had decided what to do with her daughter's life which is something I didn't find fair but it's something very common that happens during this stage of childhood.
We interviewed Janely Figueroa, a college student who said "Well I think it's a good movie that changes the stereotypes of a traditional family. It's not fair for families to push traditions on their children if they have a different point of view. There is some extent to teaching a child about tradition but not forcing them to follow it as how they grow up". Which is true because instead of teaching children we force them to follow traditions that we don't know if they feel comfortable following them or if that is what they really want.
Something we notice is that they included real life examples of how they feel during that time of puberty, exposing the reality of how they have to deal with the hormonal changes with respect to family. Many families today still live on the idea that kids don't have to experience this change at a young age such as with Mei Mei, she is only 13 years old.
We got an interview from Twitter from a elementary school mother name Michelle who their kids have watched this movie and she said "I have heard many comments in social media about this movie but I don't find anything bad or "inappropriate" for my children, I have a 8 year old daughter who loves this movie and myself as a parent I think this more as a lesson or a "cute" representation of how a children learn more about themselves when going through puberty and towards the adulthood"
On Twitter there were many comments from parents freaking out about that one specific scene at the beginning of the movie where Mei Mei's mother thinks Mei Mei had her period, and she brings all these feminine hygiene products to the bathroom. Also many people thought that her turning into a red panda was because of her period but it was more of her emotional feelings.
Also other parents had different kinds of feelings as they had said "That teenage girls and what they experience are undervalued and wish more movies like this are created". We honestly don't think girls undervalue their experience towards these kinds of stages in life but they learn more from it and normalize it between them and society because it shouldn't be something to be ashamed of.
In one of the comments on Twitter from a mother who had said  "Never in my life have I seen mainstream media aimed at children show pads or even speak the word 'period.' If I had seen something like this when I started puberty, I think I would've been a lot less hard on myself". And we agree with her because overall this movie contain real life examples that many of us have been through, and if we are being honest for girls this "stage" in life is a lot more complicated because society has build these "beauty" stereotypes about women and don't normalize women being rebellious, strong, independent or having their period.
This movie's purpose is not just to normalize this stage of puberty between women but for all children who are going through this now, parent's don't realize the trauma they cause to their children by making them believe that this is something "weird or wrong" about growing up. This movie makes us reflect on how parents have been taught and want us to follow the same steps as their parents, like Mei Mei's mom who wanted her to stop thinking about boys and focus on school, since her grandma was so strict on her when she had felt the same.
Trauma that causes the children to not trust their parents in telling them these kinds of things in life, many parents now might wonder why they never told them about their first period, first love, first kiss etc… This is one of the main reasons why they don't don't build that trust of comfort between them because they find it "inappropriate or wrong".
We would like to recommend the movie Turning Red for all audiences of all ages. Even though the movie has been criticized as being inappropriate for children. We really encourage people to give it a chance and reflect on the setting of the movie. To focus more on the message and purpose of the movie, and to put ourselves in the shoes of this movie.
Leave a Comment