Each week in APB's journalism class, the staff celebrates the outstanding achievement of one of its members.  The Journalist of the Week is chosen each week by the previous winner and becomes the proud carrier of the Golden Dragon award.  Read about our previous winners below: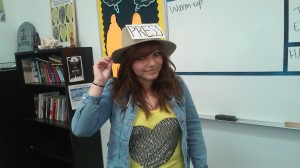 Sergio Sanchez and Marlen Serrano
Recognized by Mr. Villagomez
September 28th, 2014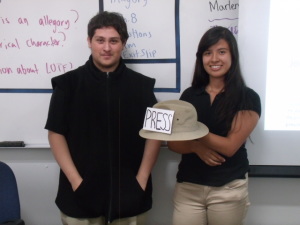 Sergio and Marlen have proven that two editors-in-chief are better than one! They have ensured that Journalism 2014 got started off on the right foot and are always trying to improve the class. For their hard work, I think it is only fair that they both are honored with the Golden Press Hat. Congrats to you both!
Crystal Simpson and Wendy Ponce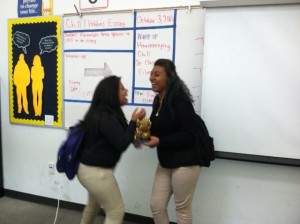 Recognized by Mr. Villagomez
October 10th, 2013
These journalists of the week have been my best asset as an advisor. They have both taken the reins as leaders and have dedicated their time to ensuring the Gryphon Gazette upholds its highest standard of reporting late-breaking and interesting news to the students of APB.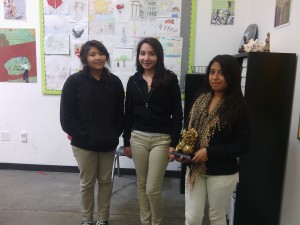 Cindy Amezcua, Daisy Perez and Evelyn Gutierrez
Recognized by Wendy Ponce and Crystal Simpson
These three girls are very diligent and determined. They are always on task and reaching out to others to help. They manage to always get things done on time and they are dedicated to making our newspaper as beautiful as it is. They truly are an amazing trio.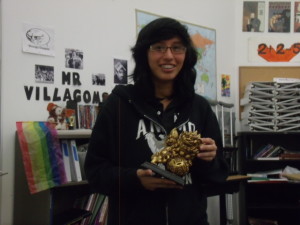 Margarita Serano
Recognized by Evelyn, Daisy, and Cindy
Margarita is a very hard working journalist. Not only does she focus on her work but keeps up with deadlines. Her dedication and hard work is demonstrated in her movie reviews and entertainment. She is a clear example of a true Gryphon Gazette journalist.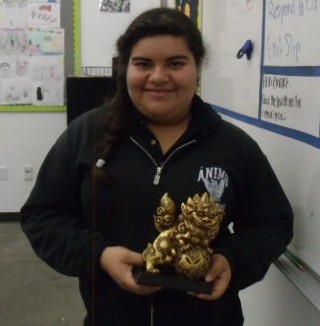 Yessica Nava
Recognized by Margarita Serrano
Yessica is a very outstanding journalist. She is always on track and doing her work. She doesn't get distracted with other things like work from other classes. She concentrates and meets her due dates. She is an amazing role model for other people.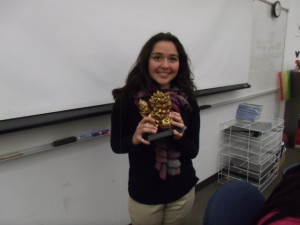 Ashley Sandoval
Recognized by Yessica Nava
Ashley is an extraordinary writer who always gives her 100% at anything she does. She has a brilliant mind who thinks out side the box when she is stuck. Whatever she starts she always
finish no matter the circumstances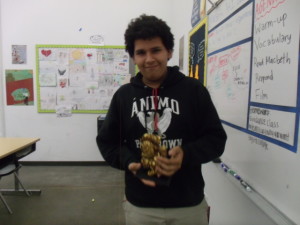 Kevin Castro
Recognized by Ashley Sandoval
Kevin is a very helpful journalist who is always on top of the game. He is a dedicated sports columnist who is always on task and meets his deadlines and doesn't mind helping fellow students figure out technology or new ways to express ideas.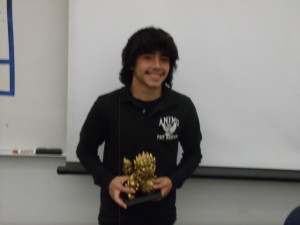 Jessi Gonzalez
Recognized by Kevin Castro
Jessi is a very dedicated journalist. He is always doing his work, he keeps up with his stories, writing them before the deadlines and such. He works really well with others and is a nice guy to be around.
Danitza Sanchez
Recognized by Jessi Gonzalez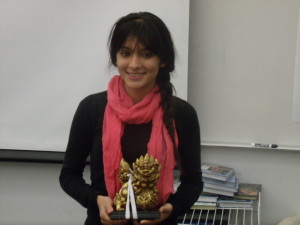 Danitza is a very diligent and focused journalist. She is always aware of her deadlines and avoids any distractions from her work. Danitza is also very friendly and kind to other writers.
Yolanda Miranda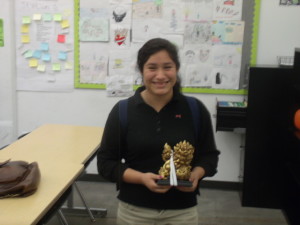 Recognized by Danitza Sanchez
I chose Yolanda as the Journalist of the week because she is a hardworking writer. She publishes stories on the due date, maybe even before. She never slacks off her work and keeps her mind in the stories that she must publish. She has a story that she is interested in and she is determined to write and publish it. She never goofs around. Instead she completes the objective of  the day.
Christopher Rodriguez
Recognized by Yolanda Miranda
I chose Christopher as the Journalists of the week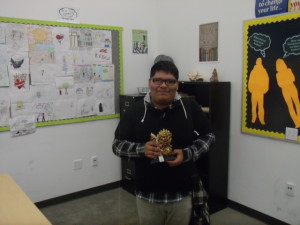 because he edits writers work harshly even if he is your friend. He is always independent when it comes to writing stories and properly writing it with full facts about what his story is about. Although he does not look like he does his work he is always there for you no matter what and is helpful in helping you with your story
.