By Mindy Larios
Animo Pat Brown held its annual blood drive on October 30th. The purpose was to send blood to Cedars-Medical Center Hospital for patients who require blood transfusions to replace lost components of the blood. Blood drives at schools are very effective because a large number of students and teachers participate, which gives hospitals a variety of blood types.
16-year old students had to weigh 135 pounds and 17 year old students had to weigh 110 pounds in order to be eligible. Phlebotomist are nurses or other
health worker trained 
to draw blood for testing or donation. When hospitals or blood banks collect blood, phlebotomist have to pin prick to measure how much iron is in the blood. After iron was measured, it determined whether or not the student was qualified to have their blood drawn out. Students who had a low iron count, either because they're anemic or a female was on her menstrual cycle, were not able to donate because it is unhealthy. Afterwards, one pint of blood was taken from the participants with the required iron count.
Most of the students that donated felt nervousness and anxiety because they were scared of the thought of a needle. Some students experienced dizziness or felt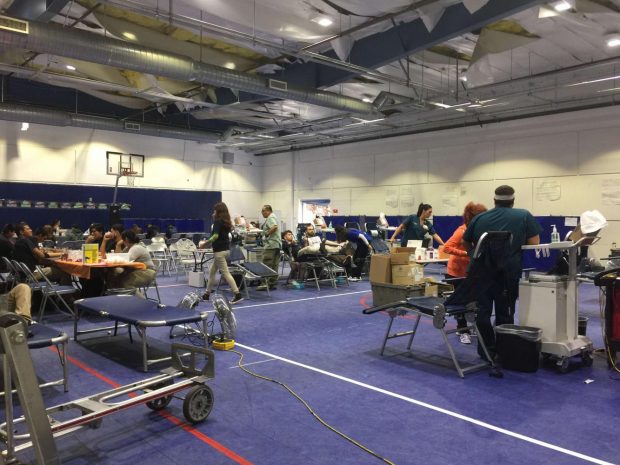 lightheaded afterwards, but it was treated by giving them a snack and/or laying down. Junior Pedro Barreras said, "I was nervous and excited at the same time but the staff were very friendly. Once it was done I felt proud because it was for a good cause and I am saving lives." At the end, about 80 students donated in this important cause.
In the end, students and teachers who helped donate received a t-shirt and a coupon for ice cream at Baskin-Robbins. There will be another blood drive in February and hopefully spring but it is not confirmed yet. Last year, Animo Pat Brown accomplish three successful blood drives and aims to have 2-3 each school year.