Día de Los Muertos Altar
By: Alexis Sanchez, Diana Aceves, and Kimberly Herrera
Día de Los Muertos is a Mexican holiday celebrated on November 2 to remember family members and loved ones who have passed away. On this day family members gather at the cemetery to memorialize their loved ones by taking their favorite foods and honor the lives of the deceased.
Every year at APB, as Día de los Muertos arrives, Paul Botello makes an altar, decorated with many calavera drawings, created by students, to remember their loved ones and pictures of those who have passed away. By November 1st, students have their calaveras covered in glitter, ready to hang on the wall. Some students even use their calaveras to honor their loved ones by adding special features that will memorize their loved ones, others use their calavera to express their creativity.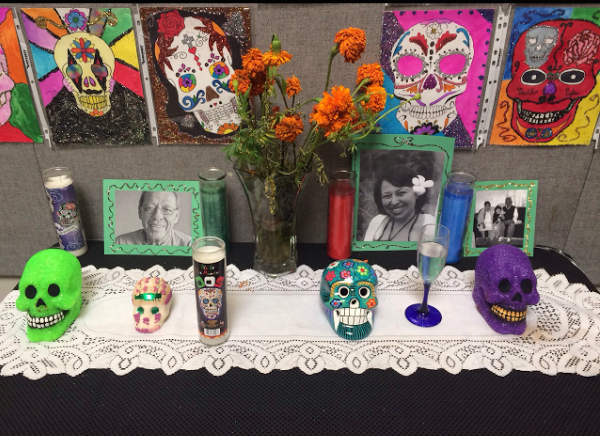 Additionally, in this lesson students enjoyed working with paint and glitter, rather than usual pencil and paper.
Sophomores Catherine Romeo and Alexis Martinez believed that the paint and glitter allowed their creativity to flow. Both of them agree that working with glitter and paint was a new experience because Mr. Botello taught them new methods of painting and applying glitter. A couple of methods that the students learned for painting were hippie tie dye and the gradient effect.
This year some students decorated their calavera to honor their loved ones who have passed away.
Junior, Karla Raygoza, decorated her calavera in memory of her grandma. Her calavera was dressed as a "charro", a mexican dressing style her grandma enjoyed.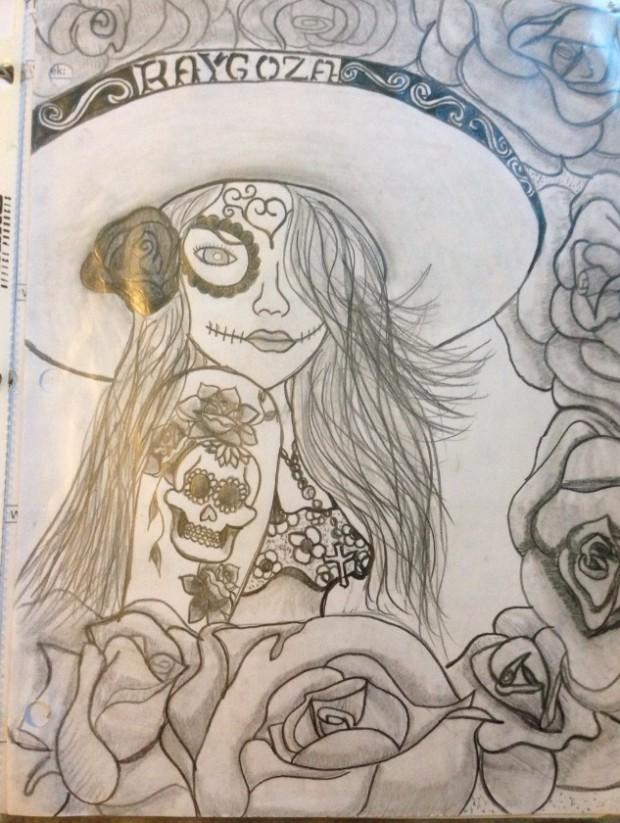 This shows how el Día de los Muertos is a symbol to students to express their memories with their loved ones.
At the alter, Botello also includes pictures of student's and staff's loved ones who have passed away.
"On the altar we have photographs of Ms. Mata, my mom and dad who passed away, and my sister who just recently passed away," said Botello. "Ms. Espiritu's dad is there. Daisy, a senior, has her grandpa and grandma there.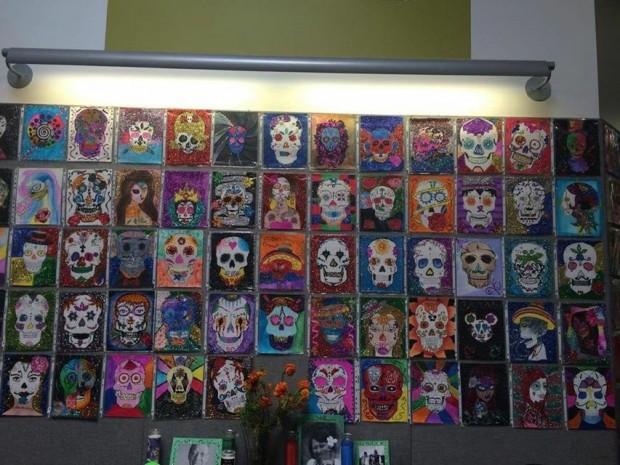 Most of all, Mr. Botello wants his students to know that Día de Los Muertos is a festive occasion were people who have passed away should be memorialized and remembered.
El Día de los Muertos is a special day that the Mexican culture has made a tradition. Plenty of mexicans gather on this special day to memorize the loved ones, friends, and family who have passed away. Mr. Botello's annual tradition of creating an altar with calaveras, flowers, and pictures for APB has inspired many of his students to create calaveras and hang them on the APB walls. As 2015 comes to an end, at APB we memorialize the loved ones we have lost.