Jennifer Lopez, Jennifer Zepeda, Joanna Juarez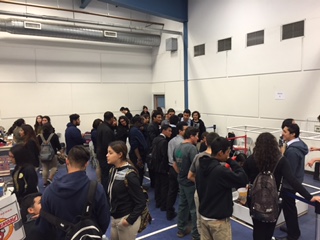 After months of continuously hard work and dedication to get the robot on the arena and working might have been the most stressful feelings seniors in the robotics class faced. Andrew Osterhaus, the Engi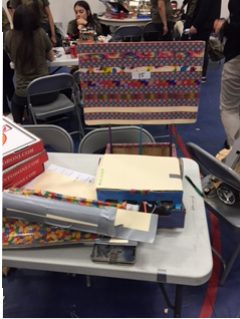 neering and Robotics teacher at APB never lost faith in the students and continued to push us forward in order to "get those robots working". Being Mr. O's last year here, the students wanted to ensure that APB won the competition. This was probably another heavy load on the students because they did not want to disappoint him. As an effort to accomplish this goal, the robotics seniors stayed late for many days and came early in the morning in order to have their robots competition ready.
     Senior and Robotics student Brian Rivas, stated "it took us till the day of the competition to become confident". Most robotics students felt as if they were competition ready until the day of the match was here. Primarily because they still needed to fix minor issues with their robots here and there.  
Alan Transito, Senior and Robotics student at Animo Pat Brown, claimed "It took me literally the last minute. We still had some issues that we didn't fix". Alan, alongside with Brian, both agreed that their robots were competition ready the day of, while others believed the complete opposite.
Senior Kevin Alduenda argued, "My robot was never competition ready". While some seniors believed their robots were ready to compete the day of the competitions. Kevin and Marlen Serrano both believed their robots were not "Competition Ready" they got it to work but in other words they just hoped for the best. Senior, Marlen Serrano said "the robot was never completely ready but she winged it." The robots looked great and did swell on the competing arenas.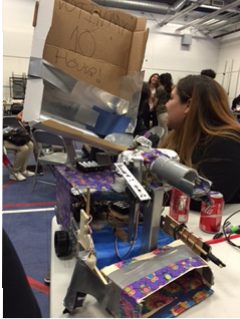 Students from other Green Dot schools came to APB , that is when it  finally hit robotics students, the day was finally here. Robotics students gathered and worked hard in order to finally compete. Half an hour
before the competition completely open its doors to the community, there were children gathered all around their robots fixing minor or major parts of their robots to make them "competition ready."

It was finally competition time, Mr.O started off with a meaningful and motivating speech. Soon after the first real fight started, everyone gathered, the robotics team finally seemed like one big family. They were all united after all the struggles and challenges they faced supporting each other and counting on one another. Brian claimed that his biggest challenge was "when our robot would hit a dead end and could not fix a problem". They would fix it over and over again it was frustrating for them to not know what to do or how to fix their robot.
     Alan stated that the most difficult task for him was "changing the programming from IR sensors to ping sensors and having to do the whole program from scratch". If programming is already as difficult as it looks like imagine having to start all over from scratch and using sensors that robotics students never used before, that must have been a challenge.
     No matter how many struggles and difficulties the robotics class face, they were able to overcome it and compete. Now robotics students feel less stress and don't have to hear that pressuring voice "Get Those Robots Working!"