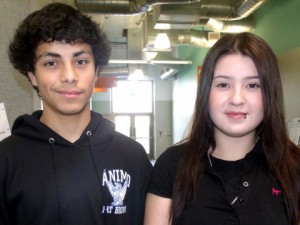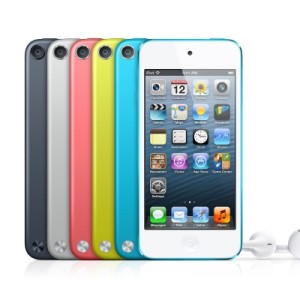 Apple introduced 4 new products to add to their family. They introduced the new iPhone 5, this new phone was awaited by everyone who owned the previous iPhone 4S.
This new and greatly improved iPhone comes with new sweet improvements, like for example for the first time ever apple has increased the size of its screen from 3.5in to a longer 4in retina display and thinner too.
Apple also increased the megapixels on its HD camera from 5mp to8mp.
The iPhone 5 also comes with the new A6 chip which lets you do everything from running apps, and playing games to surfing the web at unbelievable speeds.
"It's thinner and has a wider screen with the A6 chip," said junior Deyna Rossell.The iPhone 5 has a new sleeker, thinner, design with its lengthier screen. (It also  comes in white.) Many students have really been upset due to the fact that the iPhone was released in September 13,2012 but apple had to extend their release because there were so many orders but some didn't mind.
"Honestly I would wait for the iPhone 5 because I know it will be worth it in the end due to all the new technology that has been added to the iPhone"said Senior Cassandra Carrillo.Another student thought otherwise, "I'm tired of waiting for it , just the thought that they extended their release date upsets me"said Junior Deyna Rossell.
Apple also introduced the new and improved iPod touch. The5th generation iPod touch has improved in a lot of features for example just like the iPhone 5 apple has provided the new iPod touch with a 4in retina display. The iPod came in short after not increasing the megapixels on its camera, it still remains at 5 megapixels just like the old iPod touch, but it has new features on the camera as well like paranorma, this feature is unique that only the iPhone 5 and iPod can use, this feature lets you take the perfect"wide" shot. The most major improvement on this new device is its new design.
The iPod touch comes in COLORS, yes you heard it right, its color integrated on its new way thinner design that makes this device unique from anything else.The colors range from yellow, pink, gray, baby blue, and black so it'll be just like having a cover on it.People have been enjoying the fact that the iPod has been modified with various color.
"I liked that they have added colors to the iPod touch rather than just having an option of black and white"said Junior Amairany Cartagena.
Many are so siked in having various options of color who would of thought they would break out of there shell from black and white plain colors. Now the buyer has numerous options to pick from the iPod touch.You can select your favorite color and match any where you go. It becomes a great accessory especially for teenagers or just a person who loves there colors and fashion at the same time for Accessorizing.
The iPod nano just got "renovated". The 7th generation iPod nano got a complete makeover on its design, were talking about a thinner body,color integrated ranging from gray, pink, black, green, blue, yellow, and purple, and also for the final touch they have made it with a 2.5 inch full touch screen display.
Apple has also added a Nike fitness app, which allows you to keep up with your workouts.
''I think adding the Nike fitness app is good because it tracks the exercise that you do especially for SRLA runners" said Junior and SRLA runner Yohana Cuchillo.
Unfortunately the new iPod nano does not include a camera like its previous generation 5 iPod nano, a major set back some might say.
"It will be boring!"said Sophomore Mireya Quinonez.
So many people question is it still cool to have or should they just not purchase it? Well it's an iPod Nano it's made for a purpose and it's to hear music, you have iPhone to take a picture now and days so many can argue that it's still a useful object to hear music.
One thing people are pleased about it the new colors added to the design along with the different structure that have been added to the iPod Nano. Athletes are also impressed with the Nike fitness that would take working out to a whole new level.Start saving and run to a store near you for your new iPod nano.
For the first time ever in apple history they have changed and modified their earphones.With new design comes a new name, the new "ear-pods" have been engineered to specifically fit to the comfort of your ear and with great sound they are the best companion to come with your new apple devices.
The new "ear-pods" come in white only and they come in the new iphone5, iPod touch 5th generation, and iPod nano 7th generation or can be bought separately for $29.99.
"In my opinion, they look very high tech and very expensive.If they would of had different colors then they would probably sell more"said Junior Alejandra Carranza.
These ear-pods were designed to perfectly be adjusted to fit comfortably in your ear, this will allow you to get the most out of the new ear-pods with a much more richer and crispier sound.