In the world of bacon, anything is possible. so many people in the US love bacon though they don't know what the power of creativity can do to make these little bits of fat be even better that how some may think. I love bacon, and I try to be a little creative when i cook anything with bacon. foodnetwork.com had posted some artistic ways on to add bacon on your meal. here are some recipes that I cook with my bacon. Remember, all of bacon names are from the foodnetwork  and I take no credit for the upcoming recipes that will be listed. All credit goes to the foodnetwork and to the websites that originally posted theses photos, I just want to list my personal favorites  from the website.
1)Bacon Guacamole: Mash 2 avocados with 1/2 cup each chopped tomato and cilantro, 1/4 cup each chopped onion and crumbled cooked bacon, 1/2 minced jalapeno, some lime juice and salt. this recipe gives a delight to how the mexican appetizer is. Adding a twist to the guacamole, bacon brings new life to an old recipe.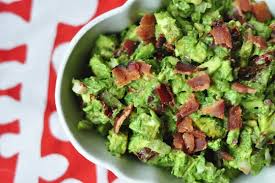 2)Bacon Butter: Cook 2 slices bacon in a skillet; drain and chop. Blend 1 stick softened              butter with the drippings and 2 tablespoons maple syrup. Stir in the chopped                        bacon.this addon is a great to start any breakfast in any weekend. It feels like it will be a sweet yet a thrilling day to be in.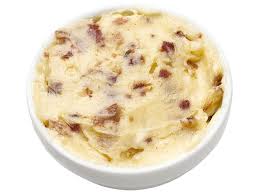 3)Bacon Quiche: Cook 6 ounces diced slab bacon in a skillet; drain. Cook 2 sliced                       leeks in 3 tablespoons drippings. Spread the leeks, 2/3 cup shredded Gruyère and the bacon in a prebaked 9-inch tart crust or pie crust. Whisk 2 whole eggs, 2 yolks, 1 cup cream, and salt and pepper; pour over the cheese. Bake at 375 degrees F, 25 minutes. when I bring friends over, we feast on the bacon pie. It's like a war zone on the dining table, though we make more later. this also works as an alternative for a picnic at the park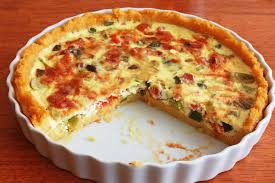 4)Bacon-Wrapped Scallops: Wrap bacon around scallops; secure with toothpicks. Broil, turning, until crisp, 8 minutes. when you like "the bacon is going to be the main dish". It's also cheap and easy to make.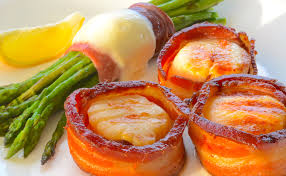 5)Spaghetti Carbonara: Boil 1 pound spaghetti; drain and reserve 1 cup pasta                            water. Meanwhile, cook 1/2 pound diced pancetta and 3 sliced garlic cloves in olive oil. Whisk 2 eggs, 1 cup grated Parmesan, 1/4 cup chopped parsley, 1/2 to 1 cup pasta water and some pepper; toss with the hot spaghetti and pancetta. when I feel like italian then I'll cook this with my cousin in mind. spaghetti is his favorite dish, even when we were kids he love his mother's spaghetti and still does even to this day.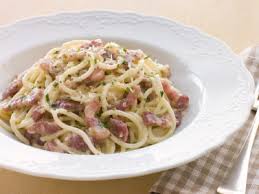 6)Pasta Amatriciana: Cook 4 ounces cubed pancetta in olive oil. Add 1 chopped onion and cook until soft. Add a 28-ounce can whole tomatoes (crushed by hand), a pinch of red pepper flakes and 1 cup water; simmer until thick, 20 minutes. Toss with 1 pound cooked spaghetti. This is just as good but a bit different than the last one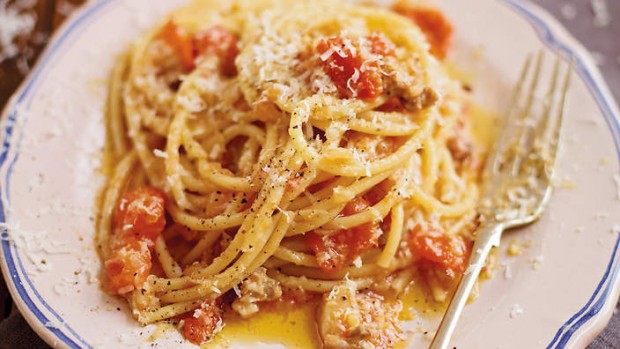 7)Bacon Burgers: Pulse 1 pound chopped bacon in a food processor. Form into four thin patties; cook in a skillet over medium heat, 10 to 12 minutes per side. Serve on buns. Its just a burger with bacon inside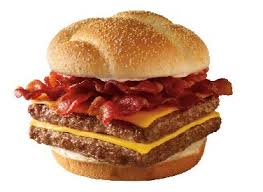 8)Bacon Pizza: Top a round of pizza dough with tomato sauce, shredded mozzarella, thinly sliced onion, crumbled cooked bacon and salt. Bake at 500 degrees F, 10 minutes. Drizzle with olive oil. It's just a pizza with bacon. Got to love the meal lovers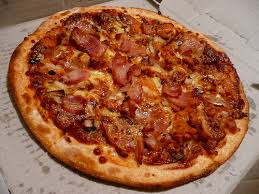 9)Bacon-Wrapped Steak: Rub 1 1/2 pounds beef tenderloin with minced garlic, rosemary, salt and pepper. Wrap with bacon. Sear on all sides in an ovenproof skillet, then roast in a 400 degrees F oven until the meat registers 125 degrees F, 20 minutes.just like a hot dog, but with a steak and not a hot dog. delicious stuff. I can't have too much or I will scarf all of it down.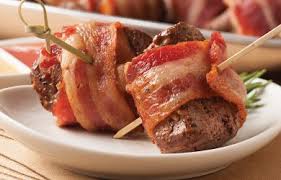 10)Bacon Buns: Mix 1/4 cup each diced ham and crumbled cooked bacon. Place 1 tablespoon in the center of 8 refrigerated biscuit dough rounds; fold over and crimp. Bake at 350 degrees F, 15 minutes. This recipe is an easy appetizer, also a great one for grills too. I love how it's perfect for a party at the outdoors.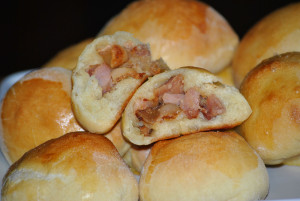 these are 10 recipes that are my personal favorites. I have more that I enjoy, though, this web site has so many recipes that it would take me about 3 pages worth to give you all my personal tastes and I think ten is enough. but I'm not the only one that loves bacon in many things. here are some people that love bacon on their other meals too.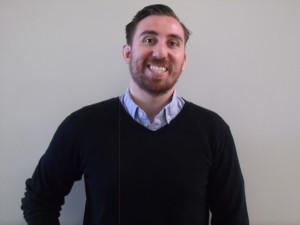 #2 Mr.Jonson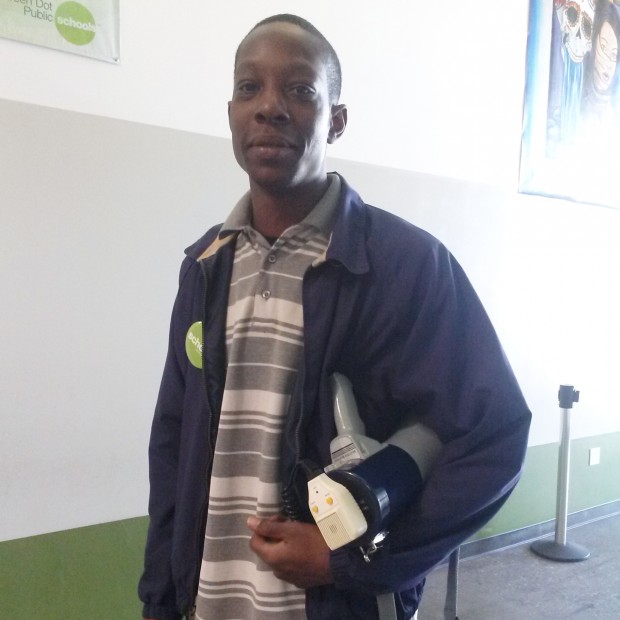 That is a lot of bacon. All of these people love bacon and love it in their meals. For those who are  bacon lovers, what is your favorite bacon meal or if not, what would you try bacon at least once?