What are those teachers up to?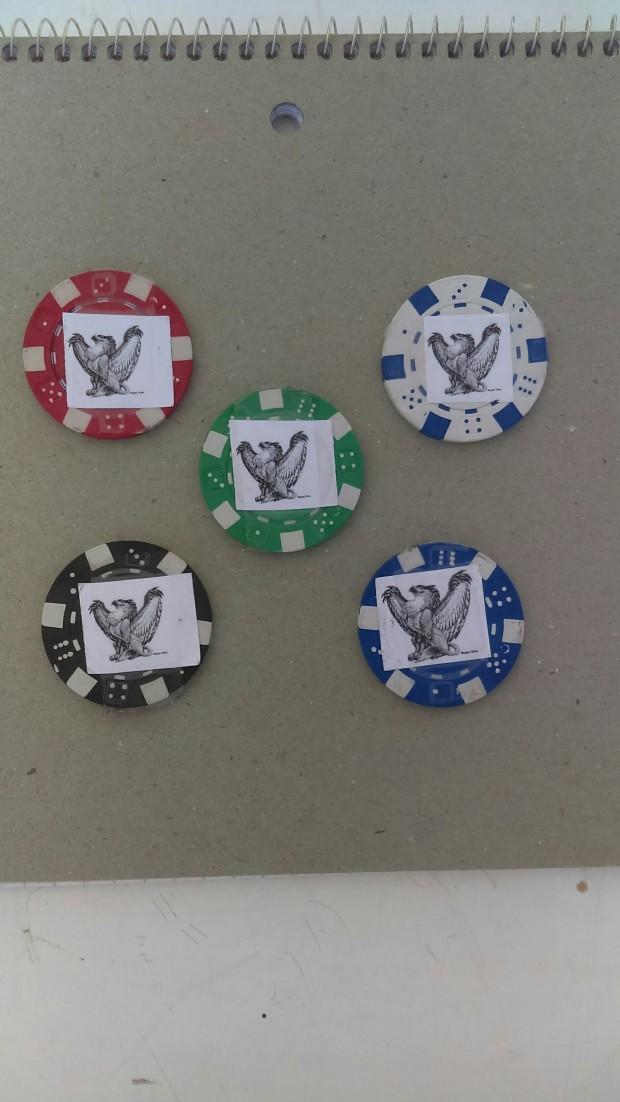 What are those teachers up to?
By Carlos Ruvalcaba
Teachers Playing games!?
October is a long month with no vacation days and many school events. This can be stressful for teachers so they may start a game. The game can consist of something like the Spoon game last year where teachers attacked each other for others spoons. But this proved a bit too stressful for teachers'. So this year the game being played by these teachers is a chip game.
Who is the Mastermind behind it all?
Brian Thomas-Reed, Assistant Principal of Animo Pat Brown Charter High School is the man behind it all! Mr. Reed created the chip game as a method to relieve stress for teachers because as mentioned above, October is a tough month for teachers, So he started to game to keep these teachers excited. He wishes to keep all teachers moral high and wants them all to have fun as well, "Teachers like to have fun, October is usually a stressful month, so to keep spirits high we like to play a game every year." says Mr.Reed. The overall purpose is to just have fun, teachers are humans too, and should fun every once in awhile too.
Winner Winner Chicken Dinner!
Ms.Wu a teacher at Animo Pat Brown Charter High School, has been the most recent winner so I decided to talk to her about the game. When asked, why does she think Mr.Reed started this game oppose to the more competitive last year spoon game last year, she said, "Teachers tend to be more on edge in October, the game needs to be more mellow than before". Ms.Wu last week winning score was 169 points! This won her prize for the week. Her prize was a potted plant and a five dollar Starbucks gift card which she claims she loves. She also believes that while the game's purpose is to relieve stress, she thinks some people are taking it too seriously. When asked if she thinks it is fair, she does mention some teachers do have it easier with advantages but nothing you can get around. Ms.Wu isn't as serious of a collector of these chips a like before because it is starting to become a distraction to some teachers and she does not wish to be apart of it. "At first, I thought it was all in good fun… then I realized some people took it more serious than others, so then I decided to back out.
How does the game work anyways?
So far, as you may have been able to tell, it involves Chips and points. Not snack chips, Special Gryphon Poker Chips! Every Chip has a different point. Mr. Reed was kind enough to forward the detail to me! They are as follows.
The following Gryphon Coins are hidden throughout the school:
        

20 White (1 point each)

        

20 Red (2 points each)

        

20 Black (5 points each)
Our first bonus Green Gryphon Coin (because Green Dot, obviously) is also hidden somewhere in the school.  This coin is worth 50 points and comes with a clue:
You can find this Green Gryphon Coin in a very special place.
We talk about these things every year on the first day of school,
But we try to live them at a more frequent pace,
They almost rhyme with cashew.
That is just the first example, there has been many more green chips distributed and who knows, maybe there is still some hidden lower point chips still not found.
Prizes? What are they winning?
Well the weekly prize is a potted plant, according to Mr.Reed, if you are currently ahead that week you will win a plant for the week and the prize will not change. But what about the end of the October when the game is over? Well that is where the best prize lies. If you are the winner at the end of the month, you get your car washed by Mr. Hartford, Mr. Reed, and Ms. Brown. Many teachers are looking for these chips to try and reach this amazing prize, but some may be taking it a bit too seriously and may be letting it distract their work. But overall the purpose of the game is to relieve some stress from the teachers and have some fun. So if you ever wondered what your teachers are up to, now you know. If you do happen to find a chip, try to keep the blackmailing of teachers on an all time low. 🙂
Leave a Comment