By: Karina Estevez, Alexis Martinez, Daniela Pineda
The movie Underworld: Blood Wars just has finished its production and has been wrapped up.  The underworld series are action horror movies of Vampires vs Lycans (a clan of werewolfs). Underworld production took place in Prague, Czech Republic. Kate Beckinsale is reprising her role as the vampire dealer, Selene, with the fifth installment of the Underworld series.  As for Theo James, he will also be returning with the role of David, a Pure-Born vampire.
In the previous film, Underworld: Awakening Selene and her daughter Eve find themselves in a uncomfortable situatio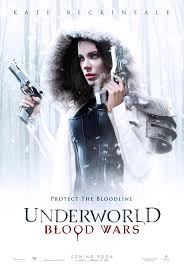 n where Michael the hybrid has gone missing. However Eve was having visions of her father up on the rooftop of a building. Upon arriving to the building he was nowhere to be found. The film ends on the labs rooftop with Selene holding Eve's hand. Selene narrates that the Lycan's will rebuild their numbers and hunt for Michael. The Lycans will rise again but so will the Vampires. The Vampires will do whatever it takes to reclaim the world as their own. However the Lycan clan will bring challenges and difficulties to the vampires since they have a large and bigger arsenal, which Selene is the key to stop the conflict before it
Underworld:Blood Wars  is the fifth segment of the Underworld series. The new movie will continue dealing with the ongoing conflict between Vampires and  Lycans (clan of werewolfs). The trailer was released last week, and had a pretty good view of what the movie could be about. Ashley Castellano, a 11th grader, who did not know about the movie, but recently saw the trailer said that she will see the movie because it looks interesting since the vampires look cool and evil on how they fight the Lycans. She claims that she is most likely to be on the side of the vampires. Another 11th grader Yuliana Lopez, who love the series said, "It looks interesting because I want to see how the series ends!". Yuliana goes for the vampires since "the movies portrays them as stronger" according to her perspective.
The character Selene, a vampire exterminating Lycans because she believes the Lycans slaughtered her family, will still be the protagonist of the movie. The movie will be about her revenge on the Lycans and the long conflict with the Lycans and the blood dealers. Some possible predictions that could be assumed is that Michael might be dead. We also predicted that the Lycans will win the war because they are more stronger than the vampires.  Underworld: Blood Wars is to be released next year on January 6, 2017. What team will you stand with? #TeamVampire or #TeamLycan?