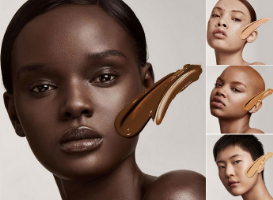 By: Marilyn Arredondo and Axlin Lucio
Fenty Beauty has ended the exclusion for all girls with different skin tones with her new foundation launch, with more than 40 shades for every skintone.  Her launch happened on September 8, 2017. Since then, it has been the talk of many makeup lovers whether they like her product or not. There has been a lot of controversy whether the product is living up to the famous renownedly known Rihanna. Different opinions have showered down from different types of girls. So does this foundation really work for all? It may have all skin tones but does it work for all skin types? After watching many reviews we noticed that many people have different ideas on it. A young youtuber, Nyma Tang did a video review trying out the darkest shade, being a dark skinned girl, she states the foundation was perfect for her skin tone, "For me it's amazing that Fenty Beauty launched a shade for me, I still can't wear most of these other makeup foundation shades.'' It has been overdue that the shades she launched were a perfect match for every girl with different skin tones.
Nyma Tang was very excited to have finally found her skin tone matched, although she says the foundation ''oxides''. Some other makeup brands like Marc Jacobs only carries 22 shades and most of them are for light skin tones and this has caused a lot of antagonist feelings from others. An article on Busttle Mentions, ''…more brands have been stepping up to the plate to expand their perspective ranges''.  Could this be that many more well know brands are going to try reach the same horizon Rihanna reached by launching 40 shades?
Fenty Beauty's launch was one of the biggest makeup launches this year, many can't compete with such. We interviewed an 11th grader, Kathy Regalado, we asked her feelings about the new makeup launch, and she said, ''Everyone has a different skin tone and I think there's a shade for everyone in her collection". She claims to be very excited and she hopes every girl finds her skintone. Fenty Beauty has definitely made a huge change in the way girls view makeup preferences.