Imagine a place where everywhere you go, everywhere you turn, everywhere you look, there are rows and rows of toys. Sounds crazy and amazing right? Well that's what Toys R Us is! Remember back when we were all kids how much we loved toys! Do you remember when you were a child and have a crazy love for toys? This place is a  paradise for any child that enters and has been around since June, 1957, but what if it all went away? What would happen to the kids? Where would they get another experience like from entering Toys R Us?
Toys R Us is a big toy company where their focus is on toys, of course,but also sell other things like movies and video games. Sadly, Toys R Us is in Chapter 11 Bankruptcy. Toys R Us filed for bankruptcy on September 2017  Toys R Us is in a five billion dollar debt. Due to this, they are considering closing down at least one hundred stores in the U.S. Another reason they are considering this, is due to weak holiday sales in late 2017 and  although sales are dropping in general, they are not giving up.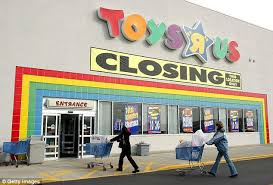 Toys R Us is  still planning to keep some stores open and maybe even open more in certain cities.
So why is this happening now? Why is Toys R Us losing sales? Well, it has a really big competitor, and that is Amazon. Amazon is a huge online store that sells most things like cooking utensils, books, and yes even toys. Lately, many people have seen Amazon more cheaper and more convenient, since it sells almost everything Toys R Us sells, and more.There are other competitors like Walmart and Target who are making Toys R Us lose sales for the same reasons as Amazon. These competitors usually  have better deals than Toys R Us and also have a wider variety of things to buy. With these different companies having better deals and a bigger variety of things to sell than Toys R Us, it's pretty clear to see why Toys R Us has been losing sales.
It is sad to know Toys R Us has now joined bankruptcy and many stores are closing. It is sure to be devastating to kids, but it's been said that Toys R Us will not give up. They're said to try to keep other stores open and see how to overcome this difficult obstacle that has come to their way.