Chadwick Boseman, African American Icon, Loses Battle With Cancer
Legend Chadwick Boseman passed away in August, having made a big impact on the African American community in the film industry.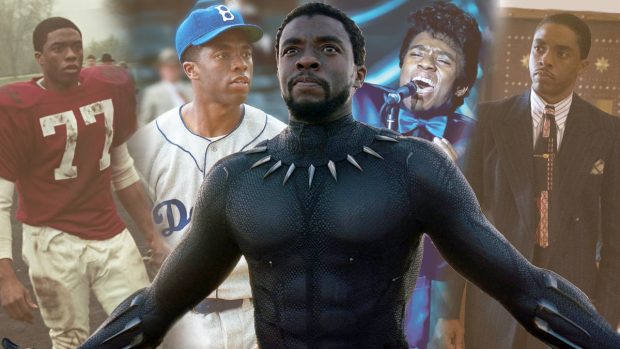 Chadwick Boseman (from left to right) portrayed as Floyd Little (The Express: The Ernie Davis Story), Jackie Robinson (42), King T'Challa (Black Panther), James Brown (Get on Up), and Thurgood Marshall (Marshall). Source: Consequence of Sound
By: David Ramirez, Emily Rodriguez, and Nefertiti Garcia
Chadwick Boseman, lead star in Marvel's Black Panther and influential actor in the African American community, died on August 28, 2020 in Los Angeles due to colon cancer, leaving behind an important legacy to today's culture.
Boseman passed away at his home in Los Angeles surrounded by family and friends. His unexpected death left the world stunned as no one knew his battle with cancer, "it was a crushing blow" Jordan Peele said. Boseman was diagnosed with cancer in 2016 but kept it a secret from the public. 
Boseman rarely commented about details about his personal life, as he was a very private man. According to a post on Boseman's Instagram, it is said that he learned he had  Stage 3 colon cancer in 2016 and that it had progressed to Stage 4. But even with his secret battle, he managed to play in films such as 'Captain America: Civil War' to 'Da Five Bloods', all between his countless surgeries and chemotherapies.  
Throughout his career, Boseman played inspirational roles such as Jackie Robinson, James Brown, and his recent iconic role, Black Panther, which left a huge legacy in the African American community. He was focused on shedding light on African – American culture by playing the most iconic African-American characters in movie history. Continuously, Boseman pushed to highlight the diversity of Black culture, and went the extra mile to make sure African heritage was treated with respect in all his films and did not promote stereotypes.
Boseman played the iconic role of Jackie Robinson in the movie 42 that was released in 2013. He was casted as the man who created history when he broke the race barrier in the MLB in 1947.
In the following year, Boseman starred in the movie Get On Up where he portrayed the role of James Brown, who persevered through poverty and the racial injustices in the 1930s and became one of the most successful musicians in history.
In the opinion of many, his most known role would be the role of T'Challa, otherwise known as Black Panther, in Marvel's Black Panther, which was released in 2018. Many viewers in the Black community felt that this movie was such a major moment because there hadn't been a Black superhero to this extent. The Black community finally received representation and a black superhero movie that was long overdue.
Los Angeles Times, Jen Yamato said, "Chadwick Boseman was an activist and a voice to the African American community. He specifically chose roles, such as Jackie Robinson in '42' and Thurgood Marshall in 'Marshall', to uplift and celebrate black voices. He had great influence in the community as many young children looked at Boseman as their first Black SuperHero."
Opinion editor Chance Townsend said, "Chadwick was a phenomenal talent and seemed like such a genuinely good person. 43 is too young to die. He was an inspiration to many young Black kids, myself included, and to discover what he suffered through in private was devastating. No one could ever come close to emulating the type of person Chadwick was and still is; he was truly a unique human being." 
Boseman as T'Challa in 

Black Panther

 (2018), one of his most known roles as a Marvel Superhero. Source: Marvel Studios 
Sports superstars such as LeBron James honored him with a "Wakanda Forever" salute in tribute to his legacy. In the Downtown Disney District a mural was painted in honor of Chadwick Boseman as his character T'Challa from Marvel's "Black Panther" alongside a children's hospital patient wearing the hero's mask with both Boseman and the child's arms crossed doing the Wakanda Salute.
When asked about Boseman's influence, an anonymous Boseman and MCU fan said, "Not only did he take on really legendary roles, it was what he did off screen." They spoke about his visits to children's hospitals and his message of hope and perseverance to the African American community. "A lot of kids watch these movies [Black Panther and 42] and it influences them to have the confidence and inspire them to just be greater because of what he did."
"I've seen clips of the movie [42]," college student Brandon Garcia said. "And I did see, you know, raw emotion, how much he did invest himself to that specific role to make him look very believable, [which is what made him stand out]." 
On top of his acting skills, Garcia highlighted the impact Boseman has had on African Americans and other minorities to have a superhero that looked like them, saying, "When I thought of a superhero, I'd thought of them [Batman or Spider Man], despite them being white. But now it's like some of my friends, when they think of a superhero, they will think of Black Panther because of how amazing he was and how amazing that character was."
Garcia's sentiments echo those of many people in Boseman's hometown of Anderson, South Carolina who have petitioned to honor his legacy by relocating a statue of a Confederate soldier to the Confederate Monument and replacing it with a statue of Boseman. Their hope is that this statue will remind them of his work for the African American community in the film industry.
Although Boseman's death left many heartbroken, his legacy has not died along with him. His work will continue to inspire others in the many years to come as they look back on the works of this great actor. "Rest in Power, King. Wakanda Forever." 
Leave a Comment