Piercings on the rise at APB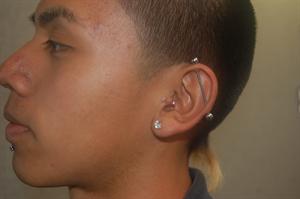 Piercings are the latest trend that students at at Animo Pat Brown have started to follow.
Many students at APB said the idea of getting new piercings came from their fellow classmates and friends at school.
Junior Edward Hinojosa has six piercings, one under his chin and the rest on his ears. He recently got his tragus pierced during summer vacation.
"Seeing them on other people made me want to get them," Edward said.
Edward said his parents don't approve of his piercings.
"They feel it's a bad image to people but I don't really care," Edward said. "I don't really care what anyone else thinks of them because its my body."
Many teens feel piercings are part of self expression.
Crystal has two piercings. One on her nose and one on her lip."I decided to get my piercings because after looking at people I really liked them," sophomore Crystal Cueto said, "If I like how they look, why not get them". "friends made me want one."
Crystal Cueto got her nose and inner top lip piercing a week before school started.
Crystal said her mom and dad feel differently about her piercing. "My dad likes my piercing because he took me to get them, but my mom doesn't like them," Crystal said. "She threatened to take my cell phone and iPod away".
Senior Ramon Iribe has four piercings, on his lip and ears. Ramon said piercings" look down." He said that he got the idea from himself and from other people.
He also recently got his side lip piercing during the summer.
Ramon said that his parents think his piercings are dumb. They disapprove of them.
Leave a Comment