Snoop Dogg Tweets a homophobic slur on social media then deletes it.
       according to buzzfeed.com it was about 12:30 am eastern time when snoop dogg posted the following image on his instagram account of two men in bed.  With a homophobic slur "u n ya boyfriend since u like jumpn on my page disrespectn bitch boy go suck ya man n get off my line f.A.G."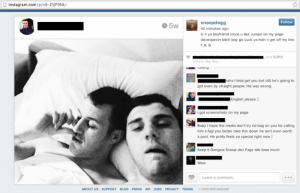 The slur also seemed to appear on his twitter account because the accounts were linked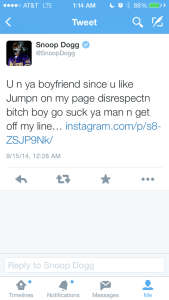 The image and tweet  was shortly deleted from his instagram about an hour later. People trying to view the link via twitter or instagram were greeted with this message.

the tweet was deleted at about 1 am on September 15 2014
there's no word yet on why snoop dogg decided to post this slur on social media but by the looks of it It might have a  huge impact on his career. Do you believe snoop dogg will be hurt by this incident ? if so let us know in the comments