By Leslie Reyes, Julio Carrasco, Marielis Aguiar, David Garcia
August 25, 2015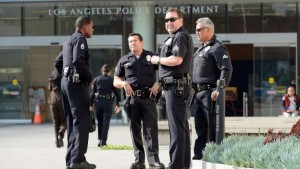 LAPD is taking steps to change their approach on crime from a warrior mentality, to a more suppressed, protective way.
The Los Angeles Police Department, along with other departments, have recently taken action to train their officers to respond to situations with a less aggressive approach.
The department has given its officers 5 hour lectures on how they should respond to certain situations and what techniques to use to defuse situations.
An issue that has come up within the LAPD is that officers have a tendency to project an arrogant attitude towards the people during confrontations. Residents might see this as disrespectful. Department officials believe that the way the community perceives the department influences the way officers treat the people of Los Angeles.
The LAPD hasn't built the best reputation due to they way officers treat the people and how they respond to certain situations.
When asked APB teacher Ms. Bruski what she thought about the LAPD she said, " LAPD are trained to act prematurely rather than thinking for a second."  
Ms. Bruski believes that officers should think before they act.
"It's usually better to be safe than sorry " she said. All she asks for is for the department to improve.
There seemed to be a trend in opinion stating mostly negative comments about the department.
An anonymous senior at APB also gave his opinion on the LAPD and the mistreatment of civilians.
"They're racist. They're taking part of racial profiling. They're being harsher on African-Americans and Latinos…" he said.  
He believes that they show a preference towards white civilians and treat them which much more respect.
He then began to explain how he didn't necessarily view them as guardians.
"Yes and no. I don't necessarily view them as guardians, but in certain situations it's different because they do help people" he said. He understood that the LAPD helps the community, but still seems to add to the corruption going on.
Should they reform? "Hell yes!" he quickly replied. He strongly believes that there should be a change in the police department.
It's no surprise that residents have these beliefs when the LAPD has a bad history with shootings and confrontations.
Events such as the fatal police shooting of Brendon Glenn in Venice Beach, caused Angelenos to lose trust in the LAPD. After a multitude of these sort of events, the LAPD claims to realize the importance of actually protecting and serving its neighborhoods.
The department's goal is to regain that trust and change the way officers interact with people, eventually becoming the guardians of the city.