by Monica Hernandez, Marielis Aguiar, Silvia Padilla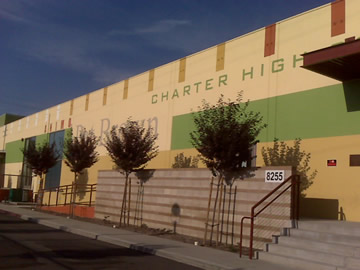 Currently, there are more than a fifth of all students in the LAUSD enrolled in charter schools. That number would rise to almost half of the district's students if charter organizations and their benefactors come to a realization.
Studies by Stanford have shown that charter schools in Los Angeles have brought significantly better academic outcomes for students than traditional districts like LAUSD. The district's largest and best known charter school organizations which includes Green Dot Public Schools, bring higher quality education to low income students in Los Angeles.
Another fact that makes charter schools better than district schools is the fact that they are publicly funded but independently operated and are free from many of the rules that district schools have to follow.  
Charters schools have put significant pressure not only on traditional schools but to its students. As a result, many students have improved not only at the elementary level but at the high school level. According to Mr. Harford, Animo Pat Brown students are at a much higher high school level than other public schools in the county. This is because in APB, we have highly effective teachers who bring the best education to students.
APB families believe that their traditional public schools are improving too slowly. Because of this, parents choose to enroll their children in charter schools. In charter schools, their children will be improving faster and will be better off than if they went to a public school. In L.A. waiting lists already exceed 40,000 applicants. This means that more parents are choosing charter schools for providing great education to its students.
Some  families may say that charter schools are not great schools. However, the charter schools that are not doing a great job are immediately fixed or closed. In other words, they either do great or  are closed. Charter schools can't compare to public schools because even though some public schools are doing poorly, they are kept open to the low income students in Los Angeles.On the other hand, charter schools will welcome all newcomers and help them be successful by improvements.
Furthermore, if there is an expansion of charter schools  there will be a high need for high-quality teachers and administrators. Since this would require a high amount of teachers, it would deepen the on going nationwide teacher shortage. 
Overall, more charter schools could bring academic excellence in Los Angeles.