An African American child wearing a hoodie with the words "Coolest Monkey In The Jungle," brings a temporary downfall to H&M's reputation of and sales. Once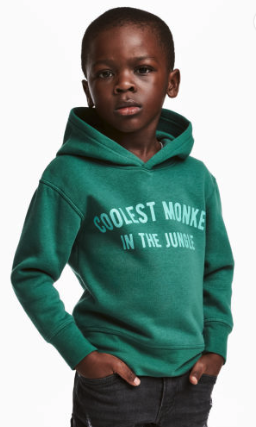 the "offensive" hoodie spread throughout the internet, many people expressed their anger towards H&M by numerous amount of tweets and Facebook posts. Many claim the hoodie was a sign of racism.
     Firstly, why did this hoodie trigger the opinions of so many people? Ignorant and racist people often compare African Americans, or people of color, with monkeys and apes. The slogan of the hoodie, "Coolest Monkey Of The Jungle," makes H&M look like they're referring to the black child as a monkey. However, what if it was a white child wearing the hoodie instead of a boy with dark skin? In that situation I believe no one would find the hoodie offensive. However, H&M seemed oblivious to the fact that using  an African American boy to model a hoodie that refers to the wearer as a monkey, would not cause a racist image.  
    Secondly, H&M did not stay silent on this controversy. Soon after the image of the hoodie went viral, H&M stated on their social media, "We sincerely apologize for offending people with this image of a printed hooded top. The image has been removed from all online channels and the product will not be for sale in the United States", H&M's PR representative said in a statement sent to Bain. Do I believe their apology was sincere? No. H&M should've realized that the hoodie being worn by an African American boy displayed discrimination and should never have been advertised on the internet. I believe the only reason they apologized was because of all the negative backlash they received. Not
only have people taken their disappointed in H&M by expressing it through social media, many have taken matters into their own hands. On January 13, protesters trashed a H&M store in South Africa following the racist ad. However, although H&M made a very offensive mistake, people should not be acting immature and childish by thrashing the stores because it creates a bad image to the community. After many H&M stores were trashed, H&M decided to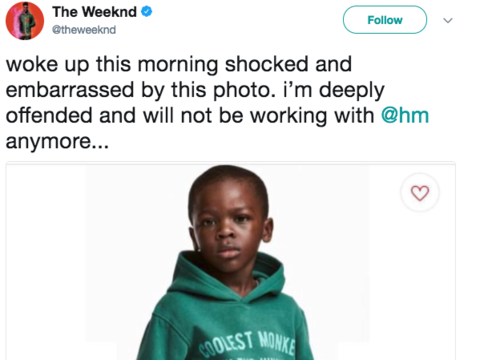 temporarily close their stores out of concern of the safety of their employees and customers. Celebrities such as The Weeknd, Questlove, Diddy, and G-Eazy, have also expressed their disappointment in H&M and stated they will no longer partner with them. Thus, this negative backlash will definitely have a short-time impact H&M sales and reputation. 
     Lastly, the parents of the young boy modeling the racist hoodie, have spoken. The mother expressed that she doesn't see any signs of racism and continued on by saying, "I'm just looking at Liam, a black young boy, modeling a T-shirt that has the word 'monkey' on it." Overall, I believe H&M wasn't aware of the racist message the ad of the hoodie displayed. Next time, however, they should be more cautious of the type of clothing they put up for sale. Although this controversy definitely brought a lot of negativity to H&M stores, it will most likely continue to stay as one of the top-selling and popular clothing stores.
By Mindy Larios