After months of training and many miles of running, I have finally completed the LA marathon. It took months of training and dedication to be able to complete such a great milestone. Three years ago, I joined SRLA but this time was a completely different experience.
On Friday, March 16, the Student Run LA team went to the LA Expo Center to receive our SRLA bag and shirt. We were there for about two hours and had gotten lots of free stuff like sunglasses, water bottles, hats, and of course free samples of different snacks and drinks.
After we left the expo, we headed to an Italian restaurant called L&E.. We were served garlic balls, meatballs, red spaghetti, and pasta alfredo. We finished our food early so we talked about the marathon. This was when I began to get nervous and to think about how the race was going to turn out.
SRLA was never a race between any one of my running partners, but rather a race against my best self. Three years ago my time for the marathon was 7:07:48 and I was happy to have completed it but was a bit disappointed that it took me so long. After three years of running I knew I would beat it but this time I set my goal time to be before 5 hours.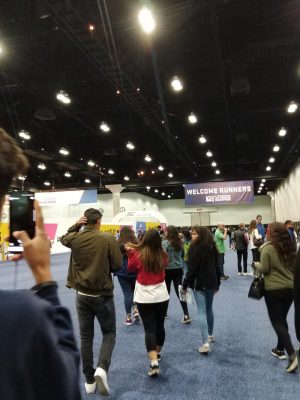 On Sunday March 18 I had to wake up at three in the morning to get ready. My dad dropped me off at school at 3:40 am and we all got on the bus and headed to the Dodgers Stadium. When we got there, we got our visors, entered the stadium and waited until 7:00 am for the marathon to start.
I needed to start the race, now and although I was nervous to start, I was now excited.
The first 5 miles were great running through Chinatown meanwhile live music was being performed. While I ran, I saw a running team called the "4:45s, T a pacer group dedicated  to finishing before four hours and forty five minutes. I decided to join that group while running because my goal time was before five hours. It was absolutely great, their leader was amazing at coaching. At one point, we ran all the way up to mile 18 without stopping, but then I couldn't keep up anymore. I was tired but I knew I had to keep going so I walked and took turns running and walking up until mile 22.
At mile 22, I had caught up to two of my fastest friends from my school: Marvin Gonzalez and Pedro Barreras. Catching up to them combines with and being around forty five minutes before my goal time really inspired me to finish strong . So I began to run without stopping again passing my friends. I was dedicated to not stopping again and just wanted to be done. At mile 25, I was able to see the finish line from far. 
Then, I  passed the finish line.  My legs were so tired I was barely able to walk, but I was proud of myself .
The marathon is a big milestone to hit, many people may say that all we run for is a medal, but I run for the satisfaction and accomplishment of doing what many people think is hard to do. I inspire everyone to try SRLA and complete the Los Angeles marathon. When I did it in 8th grade I told myself I would never do it again, but now I can not wait to do it again next year.