During Harper's Bazaar icon party, both pictures and videos of a physical conflict between female rappers, Nicki Minaj (and her party) and Cardi B were circulating the media. And quicker than you can imagine.

For those who are attentive with Nicki and Cardi's rumors shouldn't be astonished, but those who aren't were not expecting anything but viewing splendid gowns on both the rappers.

For some time now, many things have been said about the beef linking Nicki and Cardi through some of their interviews and sneak disses.

Was it Cardi's attitude? Or Nicki's grand obsession of being the Queen of rap, that lead them to the fight? Don't know, but let us analyze the events that may have possibly lead it here.

Some say it all started when former Love & Hip Hop star, Cardi came into the music industry and was not welcomed by Nicki. Others say that it was because Nicki started sneak dissing Cardi through her tracks. Nicki controverted her diss against Cardi on her tracks. Her lyrics on "No Flags" said some stuff that made people on the media feel as if Nicki was stating them towards Cardi. Which apparently, Nicki was not.

Later then Cardi began subbing on her tracks too, causing more drama through the media, making it seem as if there- was beef. Both rappers denied and denied the beef, but it's only a matter of time until someone spectaculates something new.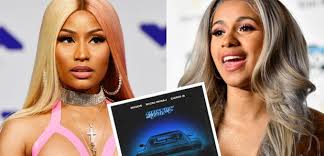 When Migos dropped "Motorsport" people started giving their opinion on what Nicki and Cardi's lyrics stated. Many said that the rappers were sneak dissing one another there too. This also became something big on the media, literally.

Both still denied this feud even though disses continued as well as the drama on the media.

Eventually leading to the fight. Reporters claim that Cardi went to Nicki during the party addressing the "lies" she was saying. Where then Cardi was given an elbow to the face by one of Nicki's security's. Cardi aggressively said things to Nicki, where then she decided to throw her shoe at Nicki and start a fight with both Nicki and her friend Rah.

Cardi seemed very furious. While on Nicki's side everything was quiet and calm, until her interview happened.

Throughout her interview Nicki stated several things about Cardi. For example all the negativity Cardi tends to spit out which never seems to get recognized by the media. And how Nicki herself wanted to make things clear because clearly, she seems to be the bad guy due to the lies said about her.

It is obvious to say the only one here living for the drama is Cardi.