Wildfires cause panic to Californians, people are tired of this recurrence.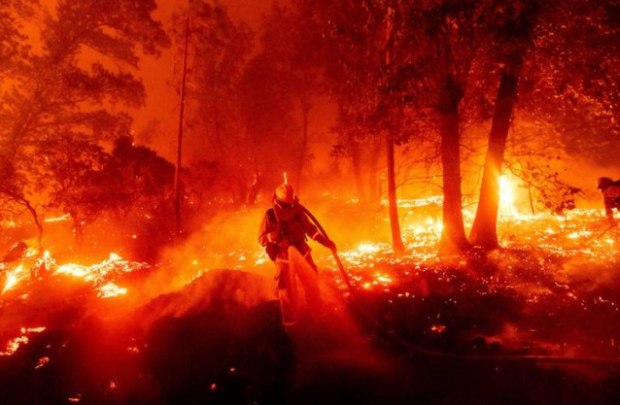 A firefighter is seen battling the Creek fire as it threatens homes 
in Madera County, California, on Monday, Sept. 7, 2020. 
(AP Photo/ Noah Berger)
By: Andrea Rocha, Dalia Robles, Xochilt Garcia and Micheal Flores
On September 5,  2020 there was a fire that grew to burn over 8,600 acres of land and worsen air quality in California. The wildfire was caused by a smoke machine for a gender reveal party.
The dry land in California made it easy for sparks to start which allowed the fires to spread rapidly. This has caused many negative effects in California.
The fire's impact has not been small, people in areas such as Oak Glen, Yucaipa Ridge, Mountain Home Village and Forest Falls were ordered to evacuate. The air quality and overall temperature for many areas have been heavily affected.
"We're still under Santa Ana wind conditions, so with the winds blowing and the extremely low humidity, the fire will probably grow throughout the day,'' spokesman for the Riverside County Fire Department in the New York Times Jeff, LaRusso said.
This has not been the first time that gender reveal parties have led to a wildfire in California. While some people on social media laughed at how a simple gender reveal caused this panic, others have taken issue with the idea of gender reveal parties. 
The woman who popularized gender reveals, Jenna Karvunidis, has spoken out about these gender reveals and how they're affecting our environment. "Stop having these stupid parties. For the love of God, stop burning things down to tell everyone about your kid's penis. No one cares but you," Jenna Karvunidis wrote on Facebook. 
"Who cares what gender the baby is" along with a photo of her daughter wearing a blue blazer made Karvunidis's Facebook posts gain quite some traction since it challenged the idea of gender as a whole.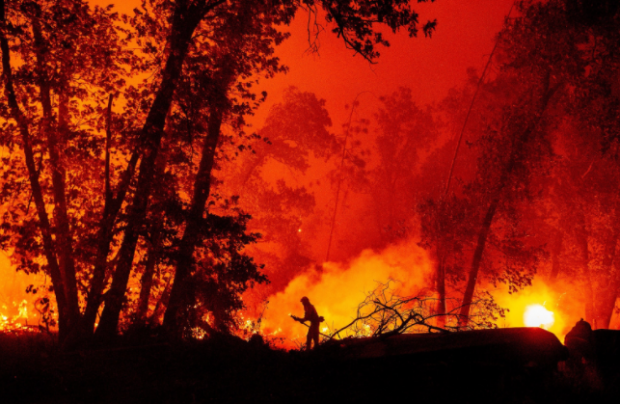 On September 8, 2020 this image was taken in El Dorado Ranch Park where
a fireman is shown trying to stop the huge fire in front of him from 
expanding. (Josh/Vanity Fair)
There was a similar incident to this that occurred in 2017. Where an off duty US Border Patrol agent powered a rifle with an explosive as a gender reveal and caused nearly 47,000 acres of land to be damaged by the fire near Green Valley, Arizona. This caused over $8 million of damage.
Since the start of the year, there have been over 8,300 wildfires that have taken place in California. Due to the fires, over 4 million acres of land has been damaged and 8,687 structures have been destroyed. Along with land and property being harmed, about 31 fatalities have occurred.
"…Remove combustibles… Close all windows, vents, and doors to prevent a draft, shut off natural gas, propane, or fuel oil supplies… Fill any large vessels—pools, hot tubs, garbage cans, or tubs—with water to slow or discourage fire" Nationalgeographic.com stated. These are some new precautions that people are encouraged to take in order to prevent wildfires. 
People feel like the destruction made by the constant fires in California, serve as learning opportunities to prevent more wildfires from starting. Concerned citizens believe that more regulations need to be put in place to make sure these destruction do not occur again.