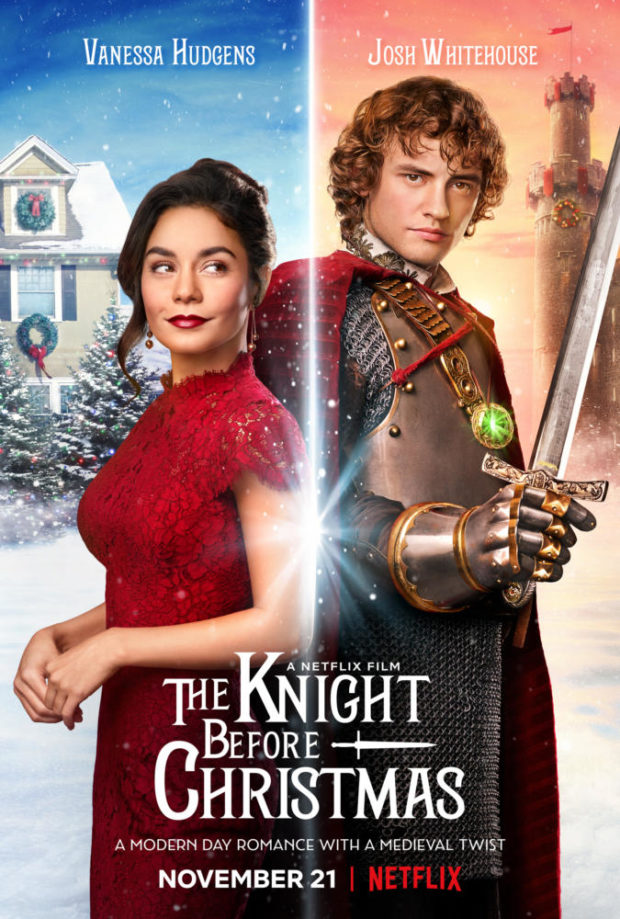 By Sonia Arellano
Cringe, corney, and unrealistic.
Netflix original movie "The Knight Before Christmas" will leave you feeling unsatisfied, but impressed at the same time only because of the idea that someone actually thought of such a concept for a film.
Truly a Christmas themed Thor rip off.
An old crone shivering in the cold sends medieval knight, Sir Cole, from the thirteen hundreds to present day in order to fulfill a quest before Christmas Eve "or he will never become a true knight." Whatever that means.
He had only offered someone a ride to shelter, it really was just a punishment for his kindness.
It stars Vanessa Hudgens as Brooke, a high school teacher, struggling with love. The desperation compelled her to let the knight stay at her empty guest house after hitting him with her car. The rest is filled with hard-to-watch flirting and Sir Cole attempting to understand modern technology.
Sir Cole is not even sure what his quest really is. He saved a girl from falling into ice and caught  a thief. These heroic acts were not quest worthy. You must be wondering, what was the purpose of this adventure? I don't think it's hard to figure out. Is a spoiler alert even necessary? The mission was to kiss Brooke basically. Something about finding true love. So predictable and cheesy.
The quest is fulfilled and so he's able to return home to the14th century. He quickly determines that he wants to return and be with Brooke. The old crone does a little bippity boppity boop and with ease sends him centuries ahead like it's nothing. They confess their love, kiss, and ride their horse away as everyone starts cheering. The closing shot is painfully awkward and not closed fast enough.
The protagonists were just bland. I couldn't get myself to care for them. There was no real conflict. I was left with so many questions but zero interest in finding answers.
Christmas movies don't usually aggravate me. I like the classics. While there were only a handful of times I chuckled, I can literally count them in one hand, it is not enough to urge me to recommend this movie to anyone.