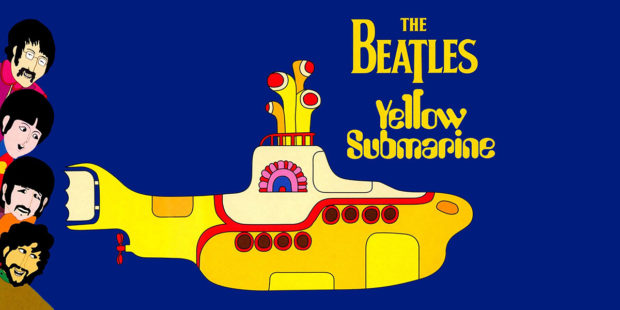 By Christopher Tellez Guzman
Imagine this – Take an animated movie based on The Beatles, one of the most recognizable bands of all time, and turn it into a surreal and strange animated movie that looks like it was made by someone on drugs. The result: An animated adventure filled with magic and truly "All in the mind Y'know."
The movie is mainly known for featuring The Beatles in their first animated movie, and the weird surreal psychedelic animation with it's bright colorful backgrounds and designs.
The movie takes place in a paradise underwater called Pepperland. A music loving place home to the Sgt. Pepper's Lonely Hearts Club Band. But on a mountain far away, lived the music hating Blue Meanies, who would attack Pepperland, ultimately turning Pepperland into a wasteland with frozen citizens, so it's up to survivor Young Fred to go and find all 4 Beatles members, and head back to restore Pepperland in all its glory.
What makes it a great animated movie is the unique animation style. The animation stands out compared to other animated features at the time, even today's animated movies. It stands out with its colorful backgrounds and character designs. It blends 2D animation with rotoscoping and some cutout animation, which in result, delivers really amazing visuals that blends them perfectly.
One thing that always amazes me is the Eleanor Rigby sequence, where we see cut out animation play in motion, while the animated Submarine continues to pass by as a background. But that doesn't stop there. Inside The Pier, there's a bunch of wacky objects coming out of nowhere, coming in and out of every door like a Scooby-Doo Cartoon. It's pretty wacky and kind of out of the ordinary, but it's cool.
As for the story, It's a brilliant. It takes a whole new level of imagination with it's world. It gives out a piece of charm filled with unpredictable moments. And they use it as a way to tell the story of The Beatles' journey to Pepperland. And as expected, the music, which provides songs from The Beatles are amazing and fits perfectly with the film, rather than just being there for viewers to call out, "Oh, it's that Beatles song." Instead, it uses it for context to describe what's happening on screen as part of the story.
Yellow Submarine is an experience that you will never forget. It's an animated journey that takes you beyond your imagination. It will make you awe over it's unique, vibrant, and colorful animation, while also telling an amazing story with The Beatles.
It's weird, psychedelic, and surreal, and I love it. If you're a Beatles fan, old or new,  who wanted to see the greatness of this movie, even after watching the recently released "Get Back" Documentary, this is for you.