UCLA VS USC Football rivalry game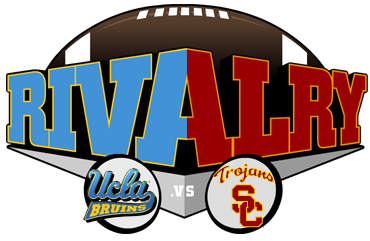 This past week was rivalry week for college football as every college faces their rival. This is the only week in college football in which the teams play their rivals. Every team has their own traditions as they prepare for the game in various ways. They have activities that they do to prepare the teams before the game. The rivalry game of Los Angeles is the USC VS UCLA football game.
USC has pregame traditions of the game the week is known as troy week.They also have live entertainment as well as parades, bonfires, and rallies.The two schools also have a blood bowl in which the staff of the schools play in a competitive flag football game which has been a tradition since the 1950s. They also have a band bowl in which the two schools marching bands have a flag football game against one another. They also have an ice hockey game in which both teams play for the crosstown cup in the rivalry week for the two teams.
Both teams use to share the LA coliseum until UCLA moved to the Rose Bowl and both teams have now kept the tradition of using home jerseys when they play one another. The winner is awarded the victory bell of their color for winning the game. USC and UCLA both compete in the pac-10. USC leads the all time series with a record of  44 wins and 30 losses with 7 ties among the two.
Senior Javier Hidalgo said he was pulling for USC to win the football game because he has had family attend there. He believes that there academics are better than the ones at UCLA. When asked what school do you believe has a better football program he said "USC because they have provided great players as Clay Matthews and Mark Sanchez. Freshmen Luis Martinez was cheering on UCLA in the rivalry game because he believes that they are the better Southern California team. He likes academically what they can provide. Luis says that UCLA has also "provided great players into the NFL as Maurice-jones drew and Tony Dye.
Leave a Comment