Netflix's Wednesday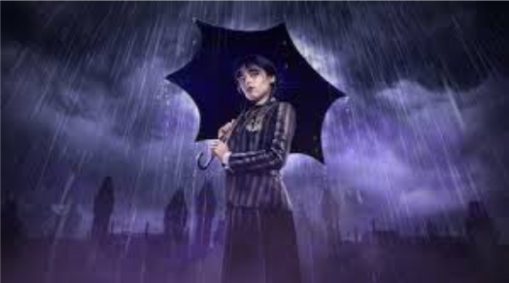 Netflix recently released a new comedy horror series Wednesday created by Alfred Gogh and Miles Millar inspired by Charles Addams' character Wednesday Addams. Starring Jenna Ortega as the main character playing Wednesday Addams in the series.
The show revolves around Wednesday Addams – hence the name. After an altercation with students at her old school, her parents Morticia and Gomez Addams enroll her in a new school, Nevermore Academy. A private school for outcasts with gifts similar to Wednesday.
Jenna Ortega takes on the role of Wednesday with a cold, emotionless personality. But this isn't the only role she's played. She started her career young and has starred in many movies and shows since then. She has starred in season 2 of Netflix's series You as Ellie Alves in 2019 as well as other series. Building up in her experience working with "horror" as she also starred in the 2022 horror films Scream and X. Her recent role of Wednesday allowed her to receive nominations at the Golden Globe Awards and Screen Actors Guild Awards7
Before Jenna Ortega took the role of Wednesday, Christina Ricci was the face of Wednesday. Joining the new cast, Christina Ricci appeared on Netflix's Wednesday as Marilyn Thornhill. Previously in 1991 however, Ricci actually starred as Wednesday in "The Addams Family". She was 10 years old at the time of the filming of "The Addams Family" and took the name of being Wednesday for many years after that before Jenna Ortega became the new "Wednesday". The role of Wednesday was her breakout role. She is known for playing unusual characters with a dark edge.
The popularity of the show arose when the news that Tim Burton would be directing half the episodes was known. It would be the first show Tim Burton would be directing in nearly 40 years. But the fact the show had a relation to The Addams Family already guaranteed it to be a hit.
But of course, to everything, there will always be opinions. When I asked a student who watched the show to give a review they said, "It was a great show, it had a great plot. Jenna Ortega was a good Wednesday, I'd rate it an 8/10. It leads up to a good show overall." The show seems to be living up to its good reputation.
Overall it seems like Netflix's Wednesday was a success. The comedy horror may appeal to your watch list so give it a watch on Netflix.
Leave a Comment