Movies companies are delaying the dates of new upcoming movies, it is unknown if the movies are going to be stream through movie theaters. Since people are having mixed feelings about going back to movie theaters since COVID-19 pandemic began and have alter their ways of watching movies. 

 "What's your #1 favorite horror film?"

 
  [email protected]_turnbloom 
By: Joanna Moreno, Maven Maldonado, Dianna Navarro and Emily Morales 
Ever since March came in, the spike of COVID-19 cases in America have risen as the whole country went through quarantine. Leading to every business shutting down, including theaters. The reason why it was mandatory to close businesses is because COVID-19 can spread quickly from one person to another, especially in a large crowd. 
Although the world of entertainment has been provided by theaters before the pandemic. Movies like "Trolls: World Tour" was one of the first movies to be released on streaming services instead of movie theaters.
Companies like Warner Bros or Disney have promised that they will try to release their films when theaters reopen soon but most movies have been delayed. Movies like Black Widow, Candyman, Ghostbusters and other few films are now going to be released around 2021. As the pandemic still continues, due to the recent cases of COVID-19, more movies are either risking to be released at reopened theaters or move the date to next year.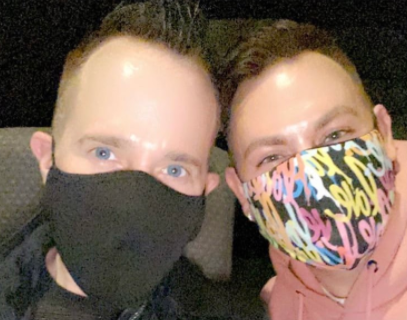 [email protected] 
"A fun few days in Boston. 
We saw our first movie in 8 months! And we love our hotel."
In August, the company AMC and other theaters decided to reopen their theaters. Their plans of reopening theaters will go through safety procedures with distance stickers and signs as well as the requirement to wear masks. 
Movies like the New Mutants and TENET are promised to later be released, as soon as its safe to go and watch movies again. As for other movies, they are going to wait and see if theaters are safe for everyone to see.
With the reopening of movie cinemas there have been many questions and obvious concerns, along with very mixed emotions. With the spread of COVID-19 once again increasing by 3% in the last month, the general public has been debating whether or not it is better to just stay and watch TV at home, rather than put themselves at risk. 
Suzy Rios and Sergio Rios, two community members, said, "There's no way you'll see us anywhere near any cinemas, especially not with lil John (their 1 year old son). We are not going to put ourselves and especially him at risk in any way."
Theaters in California are now reopened, showing new movies. They are still following guidelines to make sure everyone is safe and secured. Even if their guidelines are in place, that still doesn't change people's mind on going back and sitting with a bunch of people watching a movie.
Francisco Rodriguez, a 15 year old student of Animo Pat Brown Charter High School says "I don't think reopening any form of social gathering should even be an option right now. It's crazy that the government and Trump want us to be in quarantine but allow this to happen."
One of the characteristics of COVID-19 is that it goes airborne as people can either spread or catch the virus. Even if people say that they have a stronger immune system than others, they can carry it to others or might not be aware that they are infected. 
As the information rolled to us about COVID-19, the people understood what it was.The rules were set as we had to wash our hands, wear masks, practice social distance from others and not join large gatherings. Activities such as going to events have been uncertain of opening or being held.
During this time of pandemic, people are trying to stay home and limiting themselves to going out only for essential activities. Many are transferring their way to watch movies by using streaming services like Netflix or Disney+.