Monarchs defeat Price High School 44-0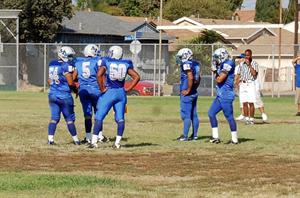 The Monarchs had a crushing victory of 44-0 over Price High School on September 23 2011 at Clay Middle School. The Monarchs felt proud and happy to have such an impressive win.
Football player, Arturo Gutierrez said he felt "great because we were underestimated before the game began, we heard them saying they were gonna defeat us easily and for us to defeat them like that was very a satisfying feeling."
The game was very exciting and the Monarchs were determined to win. They were successful in their plays.
Football player Francisco Madera was confident and said, "I was joyful because the team did what they were supposed to do as always."
Leave a Comment