Well, the Postseason games have come and gone, and with them have gone the hopes and dreams of many teams, including those of APB teachers Mr. Villagomez.
Mr. Villagomez's team, the Cincinnati Bengals, was upset last Sunday in the Wild Card by the San Diego Chargers. As in the last couple of playoff games for the Cincinatti Bengals, they have gone down fast. Disappointed, Mr. Villagomez said, "I was completely devastated, but not completely surprised by the Bengals inability to win playoff games. Andy Dalton has yet to prove he can win big games". The Charger moved on against the Denver Broncos, where Phillip Rivers could not repeat the victory against Peyton Manning.
Also, the Indianapolis Colts pulled an amazing comeback against the Kansas City Chiefs, scoring 28 points for a 44-45 victory. The Colts then moved on against the New England Patriots, where they were not able to pull the upset, falling 43-22.
Meanwhile in the NFC, the San Francisco 49ers defeated Aaron Rodgers Green Bay Packers with a walk-off field goal, where Kaepernick once again using his legs with 98 rushing yards. Then, the 49ers went up against an almost mirror-image team in the Carolina Panthers
NFC Championship
Seahawks vs 49ers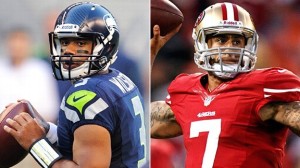 The NFC Championship match pitted two bitter rivals against each other, not to mention two of the best up-and-coming quarterbacks in the NFL, and two of the best defenses in the league. It appeared this game would be a more boring, defensive, low point game than its AFC counterpart. But many consider this game to be the real thriller, as the whole game came down to the last play, in which the 49ers drove across the field in a last-ditch effort to score the winning touchdown, but Kaepernick's final pass, intended for Michael Crabtree, was deflected by Richard Sherman, right into the arms of future Super Bowl MVP, Malcolm Smith, promptly ending the game with a final score of 23-17.
AFC Championship 
Broncos vs Patriots
Over on the AFC side, the Conference Championship match featured arguably two of the best quarterbacks in NFL history, Peyton Manning and Tom Brady. This obviously looked to be the more offensive and high-scoring game in the Conference Championships. However, it was all a one-way game. The Broncos dominated the whole game, this time keeping their lead, and giving Peyton Manning his third trip to the Super Bowl with a 26-16 win.