Isn't Winning the Most Important Thing?
Recently, there was a lot of talk about Jim Harbaugh, coach of the San Francisco 49ers, being traded to the Cleveland Browns. You might be asking yourself, why would the 49ers want to trade this guy who just came and took this team from the lowest levels of the leauge and made them a championship caliber team in a matter of a season, has kept them up there, and has the potential to earn them a Super Bowl? Well their reasoning is simple: Harbaugh's attitude.
Apparently, backstage Harbaugh isn't exactly the nicest guy. Harbaugh allegedly has been having issues with the 49ers general manager Trent Baalke, and a lot of the corporate heads backstage don't seem to want to tolerate Harbaugh's attitude, so they had some talks about trading him, mainly with the Cleveland Browns.
However, is it worth throwing Harbaugh away just because he isn't the nicest guy? I mean the guy brought the 49ers up from the lowest of levels, took them to three consecutive playoffs, three consecutive NFC Championships, and one Super Bowl.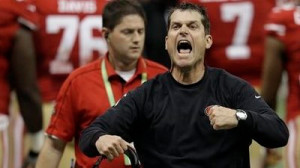 A couple of APB alumni commented on the matter, stating whether it was better to have a nice, but not very successful coach, or a coach that gets the job done, even if he's kind of a sour punch.
Senior Abram Yrigoyen commented, "For the benefit of the team, they should have a better coach, despite his attitude. However, he should try to not to be such a jerk, because when you have an attitude, you could bring players down."
Senior Jose Ron said, "On the pro level, when the coach is getting paid for the success of the team, I think it is okay for him to be an a**hole. In contrast, those coaches that fail to win are fired." Ron thinks the success of the team is better, at least in the pro leagues.
Senior Reny Carrillo had some trouble deciding. "I'd rather have a winning coach that has good relationships with the players. If I had a coach that was not so nice, but got results in, I really wouldn't want to play for him. I'm the type of the person who would rather have fun."
So overall, students wouldn't really want a "mean" coach, but they do think results are important.
Harbaugh has been very successful with the 49ers, and personally, as a 49ers fan, I think it'd be a shame to let him go just because he doesn't get along with everybody.
Leave a Comment