By Leonides Martinez and Jennifer Zepeda
On Thursday October 1, 2015 it was a busy day for APB seniors because it recommenders day Seniors rushing down the halls to get their recommender papers signed.Just then teachers and school staff had an exciting game against the students. Where the APB soccer team was ready to defeat the teachers. The first ever staff vs. students soccer game started after school at 3:30 pm.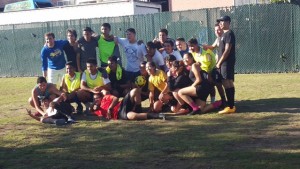 One day before the game we had asked the two seniors who came up with the idea of having a staff vs students game and why?
Alberto Zuniga, an APB senior said "Students that play soccer should have the opportunity for a staff vs. students game just like basketball has one every year". The idea also came Mr. Calderon leaving APB said Victor Perez an APB senior.
Students are excited to see a victory between the teacher vs. students. Students amongst each other had an estimate of different scores they will win by.
Nestor Vera, an APB senior said "the students will win by 8-5" Additionally, Alberto said, "students will take the victory by 5-7"
There were different teachers playing against the students but some teachers were up for the challenge to play against some students they were looking forward to and ensure that they will take the victory.
For example, Melissa Roselman (science teacher and former Girl's soccer team coach) said, "We don't need sub and teachers will take the victory." Furthermore, Ms. Roselman said that she was looking forward to compete against: Alberto Zuniga, Kevin Rosas, Nestor Vera, Carlos Rodriguez and Kayla Michel.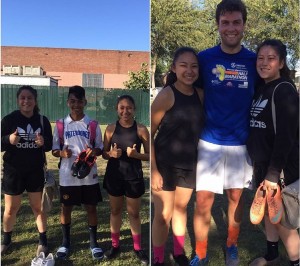 UPDATE:
APB soccer gryphons took the victory against the teachers with the score being 4-3. Teachers were losing at half time by 3-0. Ms. Roselman and Mr. Marchese scored a goal against the students.
Overall, the students felt that the game went well.
Kayla Michel an APB Senior said " The soccer game was good overall and also because Calderon played." Additionally, Luis Sotelo student body president (who played for the teachers) said "Overall I felt that soccer game was a success for the kids to enjoy and student body to unite with the staff and students." Daniel Calderon said " The game was really good and it was a fun experience. Overall I was really impressed."
Students had their own opinion rather the soccer game was fair among staff and students.
"No, the game was not fair. Teachers should have won. Some of the students goals were counted as goals but they were not." Luis said. However Kayla said "The game was not fair because the teachers were not playing fairly"
Some staff and teachers felt prepared and others did not feel prepared. They were nervous because some have not played soccer before. Others were feeling confident before and after the game.         
"Well I hadn't played soccer for 2-3 months but emotionally I felt happy. I was nervous but excited and everyone had a good time. Fans formed a very good sportsmanship." Calderon said.
Overall the staff vs teachers game was a success. The students and the staff had a good time and the students watching the game enjoyed watching the staff compete against student. Even though teachers lost the defeat against students, teachers were proud of their hard work and lose with pride.