Holly Holm pulled a shocking roar on Sunday when she knocked out champion Ronda Rousey for the UFC Women's Bantamweight Title.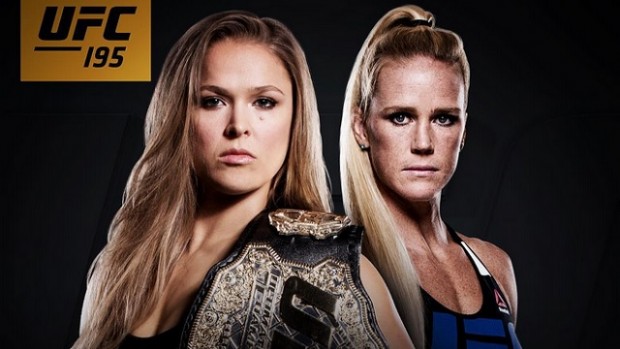 Ronda Rousey, an Olympic bronze medalist in judo, was undefeated in MMA and favored to win. Holly Holm is a world champion boxer; The Los Angeles Times called her victory "one of the biggest upsets in MMA history." The fight started at a hectic pace with Holm having some powerful punches to the unbeaten Rousey's face and head, leaving the champion frustrated, and with a bloodied nose at the end of the first round.
The knockout happened during the fight's second round. As Rousey spun around, Holm gave a kick to her neck that knocked her down to the ground. After the kick, both women were sent to the floor which then Holm landed a couple punches to Rousey's face before the referee separated them both. However, during the fight Rousey was profusely punched and severely injured and by this time it was unfeasible that Rousey was going to win. Sadly for some people, Rousey was then taken to the hospital afterward. A few news stations have announced that she might need plastic surgery to restore her facial features and might suffer significant brain damage.
With this being her first loss- it might lead to a rematch, which is something most people are actually looking forward to.
Everybody was shocked when Ronda Rousey lost her first MMA fight to a boxing champion, so what could have possibility gone wrong? Senior, Nestor Vera responded "Well, she was arrogant before the fight and stated significant amount of comments about how she was going to beat Holly Holm and win on Sunday. However, after the fight her social media followers were not there to protect her after the results. Events like that happen when you underestimate the wrong people. Holm is another great fighter but, she knew that she would see her again in the ring and knew that she had to shut Rousey up. Maybe Holm gave it her all during the fight while Rousey felt like it was going to be an easy fight. Holm fought with heart while Rousey fought with confidence, and heart always wins".
On the contrary, many people have opinionated that Rousey was not ready to take on a competitive opponent like Holm, so did UFC make the right call with Ronda Rousey vs. Holly Holm?
"UFC made the right call because both of them are really great fighters and Holm had to belittle Rousey. No one gave Holm much of a chance, but her height and reach, as well as her boxing experience, were clear advantages" Nestor stated.