By: Porscha Outlaw
The wind was rippling across the field and the dirt flies away with it. The audience is gathered in group, watching Mr. Villagomez wind his arm to pitch the large, green softball. There is a pause as the ball flies at lightning speed to the batter, junior Melanie Alarcon. She swings as fast as she can, successfully making contact, making her competitors scatter to catch the ball. Unfortunately, ARC staff member, Karina Miramontez grasps the ball and tags the base before Melanie is able to get there. .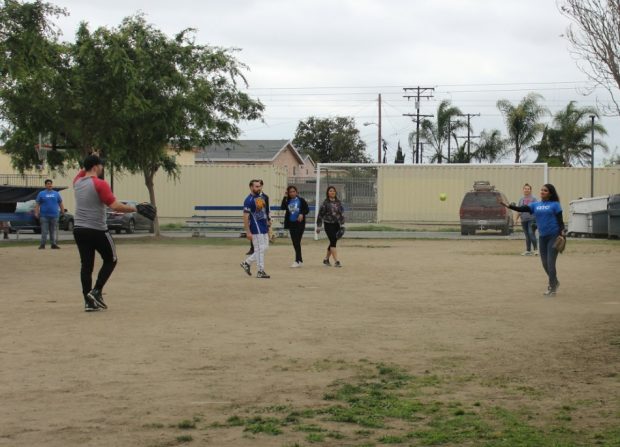 Friday, May 11th, was the first game for APB's softball team and was played against the APB and ARC staff. The game was held here outside on the field, and was not expected, considering staff had been notified late. Due to this, many people who anticipated playing were unable to attend, but there were enough people to play the game successfully.
Previous to scheduling the game, the softball team endured training three days a week, Monday, Wednesday, and Friday, with their coach, Karina Miramontez. When it came to training, she said, "What helped a lot was the drills, but first I had to get them to be used to each other and comfortable. Then little by little they started helping each other, I just had to get them to bond. The the skills come in and it all falls together, so practice, practice, practice." Karina stated that she was proud of what they did, and that she would not have changed anything she had done in the past. She even admitted that, "They did pretty good, they worked as a team and I'm proud of them. They accomplished it."
However, she does admit there is more to work on in the future, especially batting, she had hoped that they scored at least 5 points, however, due to the staff's brutality, they only scored one point. Karina was still proud nonetheless. When it came to playing against her own team she said, "It was fun to see them playing like I taught them. It kind of felt like me playing against me, with all them of them like mini-me's. I feel like they were very intimidated once I would go up and bat or anything."
To English teacher, Ms. Siemientkowski, this team building really helped them. She said, "They were really great at communicating, which is very important in a team. They were very clear with constantly yelling where it to go, and how to make a good play, depending on the positions people on each team." Much like Karina she felt that they should practice their batting more.
Contrary to Karina and Siemientkowski, many of the softball team members felt that their communication could have been better. Senior Nancy Reyes said, "I like the team just the way it is. I just feel like they should work on communication more, that was the one thing they were lacking." Melanie and Sophomore Adriana Ramos agreed with what Nancy stated.
However, when it comes to improvements, staff had two things they pointed out. Drama teacher Mr. Villagomez said, "They should work on throwing strikes consistently, which is very hard to do." On the other hand, both Ms. Siemientkowski and Me. Cieply believed that there could be some improvement in their batting. Though Cieply said that is was only one game so it is harder to access.
Unfortunately, this was not the only problem that Ms. Siemientkowski had come across, there was also the late notice of the game. She started, "I would have liked if more teachers had participated, but part of the problem was that we got very late notice. I think we were warned that Tuesday or Wednesday when they gave us flyers for the game to be that Friday. I know that, especially Ms. De La Garza and myself, had been asking for a game for weeks against the softball team because we wanted to play a student-staff game. So, it would have been more fun if more teachers had played."
This made her uncertain of what to expect from the game. She went on to say, "I didn't really have a lot of expectations going into the game. It's just that it was really last minute and I did not know who was involved, I didn't know what teachers were playing, or other adults, I didn't know who was on the team. It was like going into a cave and saying, 'Will there be a bear or not, we'll find out.'" Thought, it hardly affected her outtake of the game, of which she had a lot of fun playing.
Villagomez expressed his excitement saying, "It was an amazing experience getting to compete against the softball team, and a definite self-esteem boost." This was mostly due to the fact that they won. Cieply also said, "It was a lot of fun playing against the softball team. I just wish we could have played on a real softball diamond, but besides that, I thought it was a lot of fun."
The softball team felt no different. Melanie said, "I feel like it was fun even though we lost. It was fun playing with other people because we usually don't get to play with other people." When thinking of the opposing team she said, "They're actually really good. Sandoval came in prepared, I liked his outfit." Similarly, Nancy said, "Even though we lost I feel like we did great. We've been practicing for a while and it went great."
Adriana, just as optimistic, said, "I think we may have lost but over all we had fun. I enjoyed myself and it was really fun. I go to spend time with teachers and staff, it was nice."
Though she was  disappointed when they lost. She continues with, "They cheated. They had secret weapons like Sandoval and Cieply, he's a P.E. teacher, how do you expect him to lose?"
.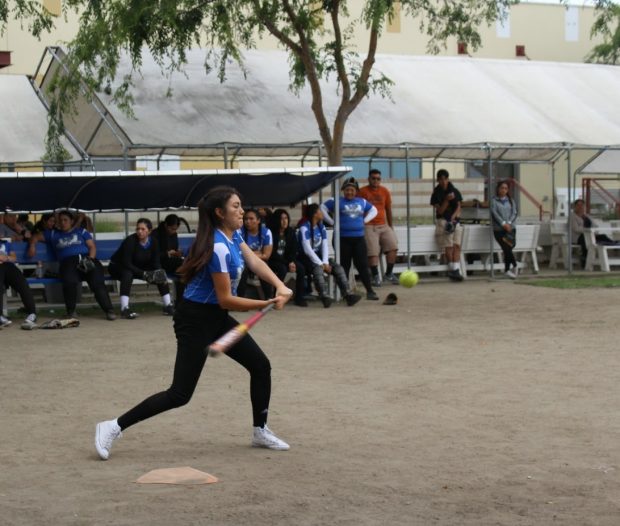 In general, the softball team was excited with being able to interact in a game with other people, but we're not as satisfied with the outcome, unlike the staff.
Cieply said, "I was surprised our team played well together. Mr. Sandoval was lights out on the shortstop position. It was nice to have people that could come together and play well." Before he had gone into the game however, he stated that,"I was telling people I was going to hit a home run, so that was my expectation. And I didn't hit it out of the park but I did get it in the far corner." Siemientkowski and Villagomez shared similar commentary and hope for more future games.
Reflecting one their actions in the game, there were a variety of best moments. Adriana said hers was, "When I pitched and got to catch the ball that someone hit. Then I  threw the ball infield, and we got two outs." But doing in, she said, "I honestly expected to lose because we haven't practiced a lot. It was a short amount of time."
Siemientkowski expressed with glee that, "I hit the ball, so that was a pretty big deal. I have not swung a bat since, probably a decade. The fact that I swung a bat and successfully made contact against someone who practices pitching felt pretty good to me." Melanie also stated she felt her best when she was able to hit the ball and make it to first base.
Comically, Villagomez said, "My proudest moment was my two shutout innings pitching. I was a bit unorthodox and they had trouble adjusting to my pitches." Modestly, he said he did  expect a "slaughter and we got just that."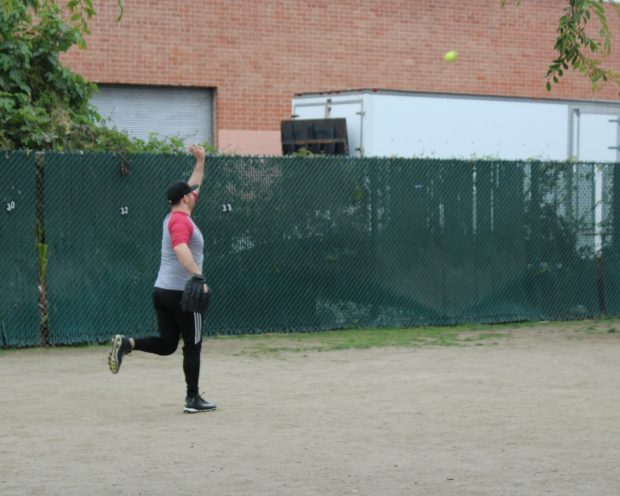 Overall, for their first game, it is evident that the softball team had a great time and are excited to play again, may it be another softball team or the staff, who seen just as excited. Hopefully, next time things will be different and more students and staff are able to make it.