Champions League 2021
By: Jose Sanchez and Nestor Perez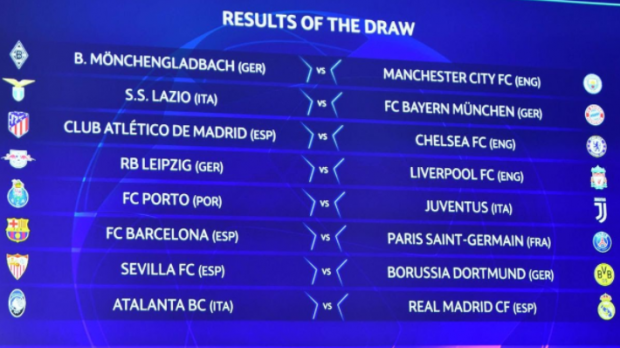 The Champions League round of 16 is back where all the top teams around Europe all play it out to see who will ultimately take home the cup. 
The match ups were chosen right after the group stage where the top two of each group made it out.  
The competition has handled the coronavirus pandemic very well, This due to the fact that most if not all games are played with no fans and require strict protocols for each team. Players are constantly getting tested and given very hefty penalties if any of them are caught not following the rules. 
However when players are tested and come back positive they are forced to miss out until they test negative again. Even then they aren't taken into consideration right away due to the fact that some can still be contagious and can face some type of side effects after. 
Things to consider, The UEFA Champions league like many other soccer tournaments around the world has special rules when it comes to home and away games depending on how you were placed in the group stage where only the top two out of four go on to the next round. The second place teams are placed against the first place teams in other groups. There are two games per round, the first game is played at the second place home and the second game is played at the first place's home. Away goals are crucial at this part of the tournament because the first place usually uses that to their advantage since an away goal forces the other team to have to win while the other team can win with a tie or the game can be taken to extra time or even penalties. 
Tuesday 16 February 2021
In the Match of the Week , PSG exceeded expectations and trashed Barcelona at the Camp Nou. Final score was 4-1 with an Mbappe hat trick and a Kean goal while Messi discounted with a penalty. Barcelona will need to go to Paris and hope they can pull off another comeback, similar to the one in 2017 where PSG were up 4-0 in the first leg and Barcelona won 6-1 in the second leg making the aggregate score 6-5 in Barcelona's favor.
Liverpool Vs RB Leipzig was a match where Liverpool forced Leipzig to make mistakes and they eventually took advantage of them. With a score of 2-0 , Sadio Mane and Mohamend Salah put Liverpool ahead at Leipzig's home. Leipzig will now need to go to Anfield where Liverpool have lost three straight games and hope to take advantage of that. 
Wednesday 17 February 2021
Maybe the most unexpected result of all of the Round of 16, Porto beat Juventus 2-1 at home in the Estádio do Dragão. Two early goals helped Porto FC defend the win which will be crucial in order for them to stay in the competition. On the other hand Frederico Chiesa helped Juventus get an away goal late in the game. This will certainly be a game to keep an eye on during the 2nd leg where Mr. Champions "Cristiano Ronaldo" is expected to lead Juventus to a comeback.  
In Sevilla vs Dortmund, one of the closer and most fair games of the round of 16, Dortmund dominated Sevilla despite Sevilla's early goal. Erling Haaland quickly responded with two goals and an assist to help Borussia get the crucial away game win. Suso and Luk De Jong both scored in order to keep Sevillas hope at the 2nd leg away game in Dortmund. Final score was 2-3, Dortmund took the win home.
Tuesday 23 February 2021
In Atletico Madrid Vs Chelsea, The Leaders of La Liga went up against  Chelsea who has been in incredible form ever since new manager Thomas Tuchel took charge of Chelsea FC. Needless to say, since both teams play very defensively this was easily the most boring to watch however the best tactically. Oliver Giroud scored, which was one of the key goals from the tournament that allowed Chelsea to win an important away game and keep their winning form. 
Next, as expected the current FIFA Club World Cup Champions FC Bayern Munich thrashed Lazio away at Stadio Olimpico. Bayern took a comfortable 3-0  lead into the 2nd half where Lazio scored an auto goal and soon after managed to score on Bayern. This bracket is basically won for Bayern where they will have to receive Lazio at home in order to secure their pass into the next round.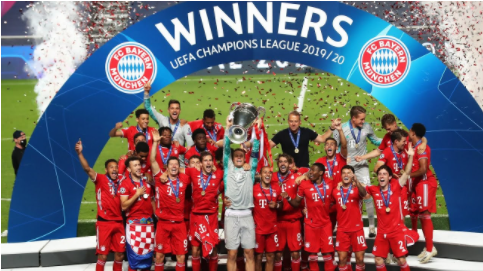 Wednesday 24 February 2021
Meanwhile in another part of Italy, a heavily injured Real Madrid had to go and secure an away win. Atalanta was given a very controversial red card early on at start and was forced to play a more defensive game at home where they also had many opportunities. Despite the very clear opportunities Real Madrid struggled, having about only half of their starting squad they still got the job done. Ferland Mendy finessed a shot top right corner to put Los Blancos ahead with a late winner.   
Lastly, Borussia Monchengladbach received Manchester City and lost. City was undoubtedly the better team throughout the 90 mins and made many feel like the 2-0 is a lie. This was expected though because Manchester City is one of the most expensive rosters in the tournament alongside others such as Paris Saint Germain. On the other hand, Mochengladbach was considered a dark horse and shouldn't be counted out just yet after they have gone on to beat other top teams in the competition. Both Gabriel Jesus and Bernando Silva Scored one goal for City. 
In conclusion, not many of the fixtures are fully defined yet which will lead to a very interesting second leg. The second legs will be played through 3/9/21-3/ 17/21 and more information can be found in the official champions league home page. https://www.uefa.com/uefachampionsleague/ 
View Comments (1)