NBA Midseason News
The NBA power rankings and mid season update.
By Arturo Cardenas and Daniel Preciado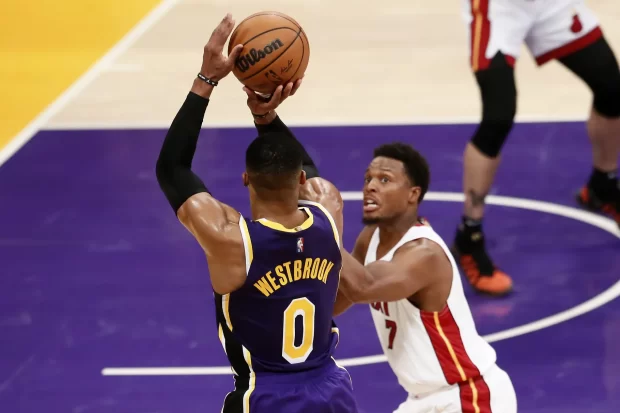 This NBA 2022 Mid-season has been an uproar of disappointments and surprises.
Newly acquired All-Star Point Guard, Russell Westbrook, has been performing extremely poorly for the Lakers. Constantly taking bad shots and just playing at a low level.
Westbrook was supposed to be the piece that puts it together for them and helps them achieve dominance, instead he has brought mediocrity to the Lakers this season.
Anthony Davis has endured 3 injuries this season and has missed over 15 games.
This missing time has really hindered the Lakers and held them back from winning games. The only way the Lakers will make a deep run is for the whole team to be healthy.
"The reason the Lakers have been failing this season is lack of chemistry and the missing time of their two superstars," a Campus Security Officer at APB said.
In a blockbuster midseason trade Brooklyn Nets superstar, James Harden has been traded to the Philadelphia 76ers for Ben Simmons including Seth Curry.
Klay Thompson's awaited return has finally arrived and everyone in the NBA is excited to see if he can return to his pre-injury form.
CJ Mocullum was traded to the New Orleans Pelicans from the Portland TrailBlazers joining forces with Brandon Ingram and Zion Williamson
All-Star Bradley Beal is undergoing season ending wrist surgery, severely hurting the Washington Wizards roster.
Indiana Pacers All-Star Domantas Sabonis has been traded to Sacramento Kings for Tyrese Haliburton.
Brooklyn Nets struggle as superstar Kevin Durant deals with a MCL sprain, losing 10 games in a row.
"The Bulls have been a refreshing and surprising treat for the NBA and fans," U.S history teacher Mr.Hinojosa from APB.
The Phoenix Suns are top seed in the west with a (41-10) record and the Chicago Bulls are top seed in the east with a (32-19) record.
We predict the Phoenix Suns will continue to impress and will remain the first seed in the West going into the playoffs.
We predict that with the addition of James Harden Philadelphia will lead the team to be the 1st seed in the Eastern conference.
Leave a Comment