Toys!
By Silvia Padilla & Carlos Ruvalcaba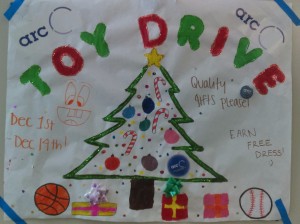 Every Christmas is being with family and friends, handing gifts to loved ones, and children thrilled to receive presents from Santa Claus on Christmas Eve.
Though Christmas can also be giving presents to those who are in need, whether it's poor children or orphans. Which is why ARC is bringing Toy Drives to APB! A toy drive is an event where people donate toys to a charity event where they will be collected and redistributed to orphans around the community. There are many orphans who can not have a very Merry Christmas. That is where the toy drives are here to help. A donated gift from one person can bring happiness to a child.
 If all of APB collaborates and helps donate, we can bring a very Merry Christmas to all orphans.
"We don't want to show up to a foster home with only three gifts for only three kids." says Yadira Carrillo, an ARC member, "We would like to have enough gifts for the majority of the kids there".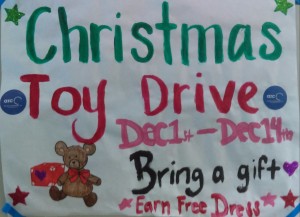 Imagine how many presents can bring a child's happiness and save their Christmas holidays for people we can potentially save. Let's be more selfless and caring this year gryphons! Let's all try to donate as many gifts as we can! It is given that not all students have a selfless personality. If being kind, nice and fuzzy inside isn't enough to get students to donate, ARC is offering free dress to every grade who donates! Yep that's right, you can earn free dress with the donation of a nice quality gift!
"Something that isn't 99¢ and won't break easily" says Yadira, "ARC focuses to give back to the community, and this toy drive is a good way to do so".
However, there are some students who aren't willing to donate because of their reasons.
"I wouldn't do the toy drive, said tenth grader Yuliana Lopez, "because I don't have time since we are so busy with our finals and we barely got the information."
So in the end, do as you see fit. If you have the time to donate, think about it, Free dress is involved. If not then maybe next year or perhaps another drive.