By Mindy Larios, Abigail Jimenez, Anabel Ocampo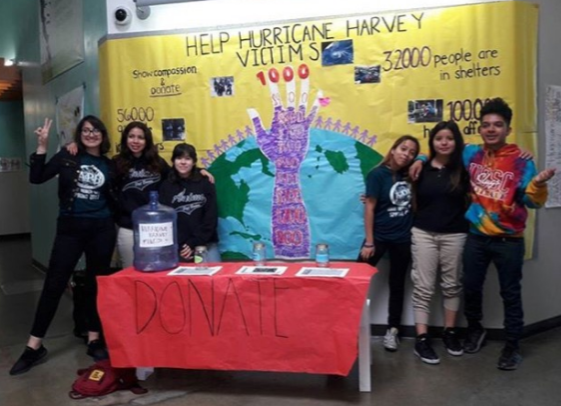 APB raised an astonishing amount of money for Hurricane Harvey victims! Hurricane Harvey was a deadly hurricane that affected the state of Texas. It killed many, destroyed homes and left people without food. English teacher Mr. Pickering, was the first to come up with this idea and asked student council if they could collaborate with him in order to create this. Student council created a colorful display to inform people of the damage Hurricane Harvey had done. They walked around with posters asking students and teachers if they would want to donate to this important cause.
Many students wanted to help the community and decided to donate. Every grade level took part in helping. Teachers also donated such as Mr. Sandoval, Ms. Siemientkowski, Mr. Daniels, and Ms. Roselman. After three weeks of student council students walking around with banners encouraging students to donate, a total of $1,263 was raised and sent to Texas! All the money was given to the United Way Foundation, a campaign in charge of charity money.
Senior and student council member Jocelyn Hernandez said, "Ms. Garcia (student council leader) told us that Mr. Pickering wanted to talk to us and he asked us if we could do something to help people in Texas and we agreed of course". She also said that everybody in student council participated and worked very hard to raise as much money as they could.
Junior Liliana Rodriguez said, "I decided to donate because I wouldn't like if this happened to us so I felt sympathy towards Texas and decided to donate… we didn't receive free dress or anything for donating, but I rather give than receive back."
History teacher Mr. Sandoval said, even though there was no actual reward, "it felt good that the school was able to meet our goal, so that felt rewarding for everybody." He went on to say that many other parts of the world are being affected by natural disasters, "there's Florida and Texas, and now something happened in Puerto Rico, we have a big earthquake in Mexico…it feels like it's never ending."
In addition, APB clubs also decided to help victims of Hurricane Harvey. While most of us were relaxing on Saturday, members and staff of ARC made generous donations to help victims. ARC traveled to Horace Mann Junior High school on September 23, where they worked with an organization called Hav-A-Sole and did community service by helping pack and sort supplies that would be sent to Texas. The supplies being sent off were clothes, shoes, canned food, hygiene product, and anything else that was needed. Their generous service rewarded them each with a pair of shoes and pizza.
APB students have certainly made all of us very proud!