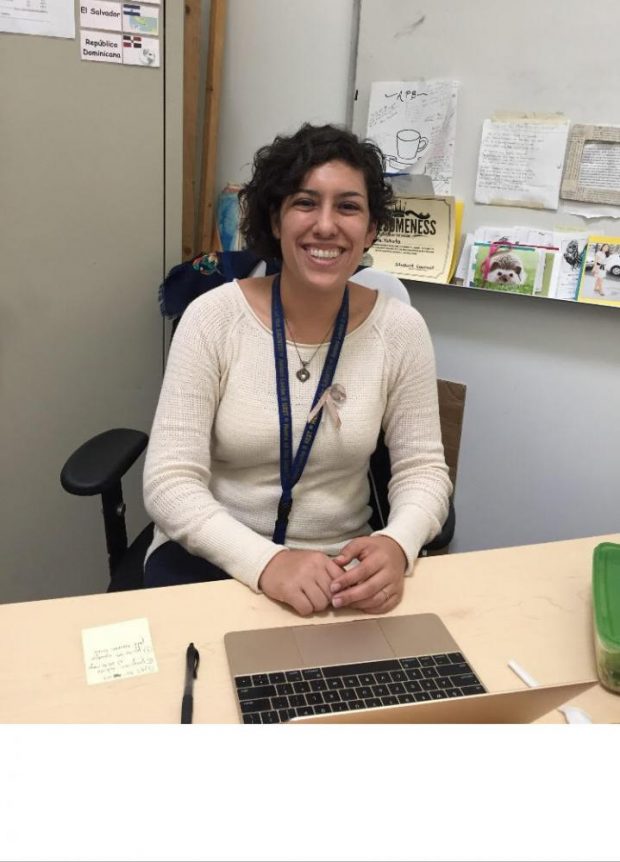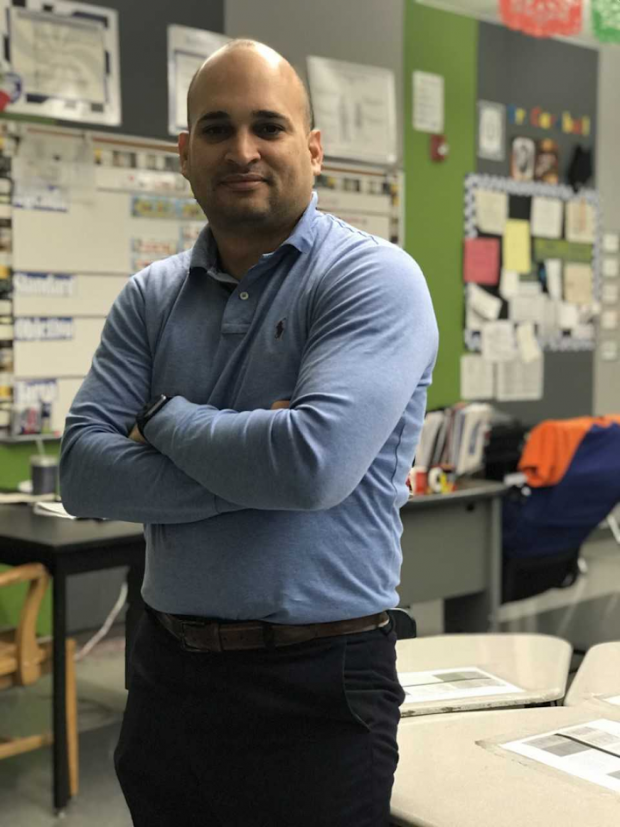 Ms. Yokota                                                     Mr. Caraballo
By: Angela Acosta, Anabel Ocampo & Abigail Jimenez
In every high school, students grow to known many of their teachers who have impacted their character and education in a very unique way. Here at APB one of those teachers is Spanish teacher, Mrs. Yokota, who has been working at APB for five years. It is every teacher's job to help students feel welcomed just as everyone else and Mrs. Yokota has fulfilled this task. We interviewed a few students and staff members who have known her throughout her years of teaching.
"She is pretty chill and she is a good teacher, she helps you out and she is nice. Whenever I need help she sets an example so I can understand. I believe her class is pretty easy," said Jacqueline Silva.
"One thing I like about Ms.Yokota is how she is and how she teaches… she's a pretty cool spanish teacher. She impacted me by helping me improve my spanish. Now I can talk way better to my parents in spanish than before. Some last comments I'd like to tell her is that she is an awesome teacher," said Ruben Carrillo.
"I like that she's a pretty chill teacher who understands what people want and she tries to make sure that you can pass in her class. She is always trying to enforce people to do their best and she is an understanding teacher. Her class can get pretty boring but since Mrs. Yokota is a very nice teacher it can help the day by faster. It was fun while it lasted," said senior Angel Carrasco.
"I like how she's always interacting with her students.I didn't like Spanish before but now she's made it easier to understand because she is more helpful. I like her class because as a teacher she is pretty cool. I hope she has a good time wherever she goes next year and she should stay true to herself," said 11th grader Claudia Flores.
"I like how she is very flexible with turning in assignments. If you have to turn in something late, she will still accept it. She taught me more spanish than I already knew and she makes the class fun," said 11th grader William Morales.
"She is a very kind person, everytime she sees me she is smiling and she greets me. I wish she wouldn't leave because when I started she was already here and now she's like family to me," said the janitor, Martha Lozano.
Vice principal, Ms. Brown had many things to say to Ms. Yokota. She said, "It is very bitter sweet for me because I'm both happy for her and this new step in her career… I'm also very sad for us because she is an excellent teacher and not just a teacher but she's been an amazing colleague when it comes to working on school culture and building relationships with students."  She continued to explain how she coached her, instructionally for the past several years, so she's gotten to work really closely with her. Brown strongly believes that this is definitely a big lost for our school community in many ways. but is excited that to see her moving into administration.
Ms. Brown also had a lot to say about Ms. Yokota's skills. She said, "Ms. Yokota is incredibly reflective… she's very sensitive both to students and adults… she is responsive to what they need… she doesn't have a fixed belief that there is only one right way to teach a class. "Overall, Brown believes that Yokota is the type of teacher to put student's needs first. She continued to say, "I think she is very selfless in that way… she's also extremely reliable and responsible like if Ms.Yokota has something to do you know it will get done and it will get done really well.
"It's sad that she's leaving because she's been here for a long time but I'm glad that she has this opportunity. I like that Mrs. Yokota is very well organized, she's strict but she will also listen to other's opinion. The last thing I would like to say to her, I'm sure she'll be great and I wish her luck in whatever school she ends up in as an assistant principal" said office manager, Aida Avila.
"I'm happy for her because she will be in the AIR program where you learn how to be an administrator and she's be somebody's assistant principal. I like how she's always on top of her work, like I work with her in two different communities where we get to know students and build relationships with them and treating them respect and the time that I work with her, I feel like she is really thoughtful with what she says and she doesn't talk and talk like I do and I really appreciate the fact she'll stop and she'll be like "ok, do you really mean?" or she'll stop and ask me a question that will really make me think. She always does a really great job of coming to work and getting her work done and being able to go home and do things that she likes as well and so I look up to her for that because I feel like teachers spend all of time here and we are not always very efficient and she kinda taught me that I should just set days where I just leave and set days where I stay and get the most out of time here and I feel like she does that. I would like to say that I look forward to seeing her as a new candidate for assistant principal or just stopping by to say hi and I wish her the best of luck and hopefully she's not too mean as an assistant principal," said 11th grade U.S. teacher Mr. Sandoval.
We also had the opportunity to interview the new teacher for Spanish 2 here at APB so that students can get to know him for next year's class and how he feels about APB. "I feel really excited to teach here at Animo Pat Brown because I know it is a very good school, and it is really rigorous and competitive and I feel excited that I can bring my energy and talent to the school and I am excited to see what the students and teachers are like. I have been teaching for 3 years and what has made me want to move here is the fact that, We have meetings here for the Spanish department and everytime I come here I see the posters, the activities you guys are having, I see how nice your staff is, and also the students are really nice as well and it made want to be here. The school I am coming from is Animo College Prep which is from Greendot as well. I have taught Spanish 1 and 2, Spanish AP Language, Spanish AP literature,and advisory as well. I feel here at APB is more of a family environment, I feel like the staff and students are close being the fact that it is a smaller school. As a teacher it makes me want to have more of a one on one interaction with my students, know them better and I think it's gonna be well. I known that every student is gonna be different, I know one student is not the same as the other one, but I feel like I am gonna have fun, I'm gonna enjoy it and just as I did at my other school as I created a connection with my students, I am going to create a connection here as well. My door will be open, my class will be fun and I'll be sure that we will have a great time. One Interesting fact about me is that I'm Puerto Rican, it's a long way from home and its interesting because not a lot of Puerto Ricans are here so I wanted to bring my accent, my knowledge, and culture right here to my classroom" said new Spanish teacher Mr. Caraballo.
We asked Ms. Yokota what she likes about APB and her experience as a teacher and she stated, "I really do love the teachers, principals, and staff here. I think the people that work here are phenomenal and work really hard and are experienced and really good at what they do. And I also love that our student here are so resilient, they're really strong. They've been through a lot and yet they do a lot of amazing things. I feel like I have become a much better teacher and listener because of my time at APB because the students expect u to be good at what you're doing. They can be picky, but in a good way, and I think that really pushed me to be better at what i'm doing. The students here have really helped me listen and be patient and so I've been really grateful to learn that from my time here. It's fun to be part of a place for a long time because you get to see how families grow and how students grow and change." We went on asking her where she will be going after leaving APB and she said, "Next year I'm going to be a part of a program that's part of Greendot called "Administration in Residence". I'll probably be at Locke or Jordan again so that i can learn from different types of principals and students. All Monday through Thursday it'll be like I'm an assistant principal then Fridays I'll get to learn how to be an assistant principal." We also asked her why she was departing from APB and she said, "I'm in my 10th year of teaching and I love it and if i could be an administrator here or principal, I would totally do it but we have no spots open right now. It's been a really good experience, but i felt like it was time to start still being around students and school but in a different way. I really like teaching, but I do like a lot of the stuff that happens when you're not in class because I think working with people one on one and talking to their parents can be a good opportunity to make change. And it's definitely not because I want to leave! I love this school so much and I'm really going to miss it."
As you have read on, you notice that teachers like Mrs. Yokota are great at making change to their environment and the people around them and we hope to see that the new spanish teacher, Mr. Caraballo is able to fill in those shoes. Although the staff and students here at APB will truly miss Mrs. Yokota presence, we know that she will create better futures wherever she goes. We hope that Mrs. Yokota comes back to visit us soon and stays permanently as our new assistant principal of APB!