By: Ahtziri Gomez and Naydelin Hernandez
Throughout 2020 and 2021, high school seniors prepared themselves for life changing events, such as college admissions/acceptances and graduating high school. With the pandemic, high school must have been very difficult to navigate and for many, including myself, the entire college application process was fairly lonely. Although seniors did not get the year or senior experience that they worked so hard for, all I can say is that we made it and we should be proud of our accomplishments. It is a bittersweet moment, but it is a big step for all of us, so here are a couple of 2021 seniors and where they will be headed to for college.
First up, we have Thania Barron who is a current high school senior at Fremont High School. Barron loves to read and write. Some of her favorite books are "A Little Life" by Hanya Yagihara and "Normal People" by Sally Rooney.
Barron applied to 16 colleges and was accepted into 9 of them. Her top three choices were Forham, UCLA, and UCI. She committed to UCI and says, "I wanted to attend UCI for various reasons. I knew the campus and area were beautiful, the student life was good, and I knew that this is a school I once wanted to go to but as a different major."
UC Irvine is one of the nine UC campuses. It is infamous for its anteater mascot (ZOT ZOT ZOT) and according to the UCI website, UCI enhances lives through rigorous academics, cutting-edge research, and dedicated public service.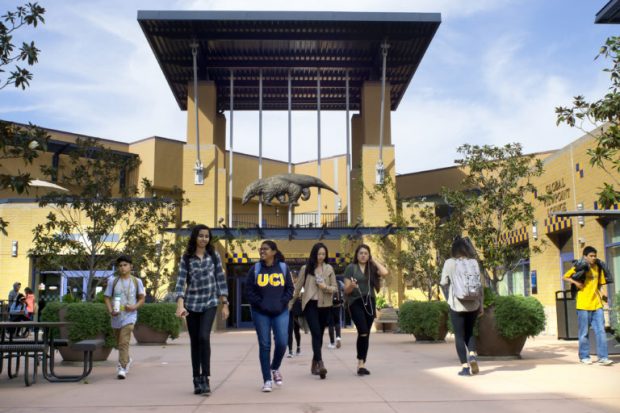 UCI college students as they head to class.- Steve Zylius / UCI
For our second student spotlight, we have Sidney Aguirre who is a current high school senior at Alliance Collins Family College Ready High School. Sidney is a well reserved person but an extrovert once she gets to know people.
Sidney applied to 4 colleges and was accepted to CSULA, CSUDH, and CSUF. She committed to CSULA and says, "Cal State LA was my first choice and it was also the closest to where I live." She did not want to dorm and didn't see a reason to but is still exploring her options.
Next, we have Dyreen Valdez who is a current high school senior at Animo Pat Brown. Valdez enjoys drawing, playing soccer, and hanging out with family and friends.
Valdez's top choices were CSULA, CSUDH, and UCM. She decided to commit to CSULA due to the major she is interested in, which also was influenced by the school distance from home and was offered a good amount of financial aid. She says, "Yes I feel like I made the right decision. It's a good school & I feel like I'll feel more comfortable there."
Entry sign at Cal State LA. (J. Emilio Flores/Cal State LA)
Last but not least, we have our very own Animo Pat Brown High School senior, Shadanny Rodriguez. Shadanny is very creative, caring, and a fun person to be around. She loves to draw and paint in her spare time, and plans on majoring in business.
Shadanny's top college choices included UCM, CSDH, and CSLA. She fully committed to UC Merced and says, "I decided to go for UCM since it was a good place to study business but also because I kind of wanted to become independent." UC Merced is about 5 hours away from Los Angeles and although Rodriguez is unsure of her college choice, she is sure that she will be successful and life will continue.
UC Merced has been selected as Education Dive's University of the Year
Although the pressure of deciding and wanting to make ourselves and our parents proud was heavy, our life is ours to live. College is the best decision for some of us and others it is not in the picture, and that is perfectly normal. Congratulations to the class of 2021, and all of their accomplishments.