Losing someone special isn't easy but you're not alone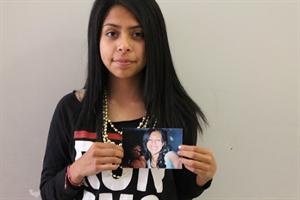 As life comes and goes we have to face the death of our loved ones. Death is nearly always followed by questions–why is this happening? What did I do to deserve this? Is there life after death? Whether we are facing our own death, or the death of someone we love, we want answers.
"If a student has experienced a loss, teachers, staff or students usually inform the counselors. We often pull the student out to provide them with an opportunity to talk about the loss if they would like," counselor Leticia Reyes said.
After about ages 9 or 10, adolescents begin to understand that death is final. Teenagers find it difficult to cope with the emotions they begin to experience because they can't full grasp the concept that their loved one will no longer accompany them. They often have feelings such as sadness, anger, guilt, insecurity, and anxiety according to The American Cancer Society.
"We contacted an outside agency that specializes in grief support, Our House, and were able to get a support group started," said Reyes.
Senior Isabel Valdez recently lost her sister to cancer and took part in the support group. "I feel that it has helped me because it helped me deal with my emotions in a better way," Isabel said. However, different students have different coping mechanisms.
Senior Cesar Olivares felt pressured by his friends and felt they didn't understand the situation he was in. "They didn't know how I felt. They didn't understand me."
Cesar's father died due to two bullets penetrating his stomach and one in his arm. He found it hard to maintain his focus during school. "It all affected me, it was really hard to focus in class," Cesar said.
Isabel felt that teachers don't understand the emotions students feel when they're trying to deal with the loss of a loved one. Chemistry teacher Janee Gerard said that she feels sympathetic for students and would gladly try to understand her students. "Students won't share with us or they don't feel comfortable which I understand but also it's really hard because I want to be sensitive if students are having a hard time," Gerard said. "It's really important to me. Your lives are more important to me than what you learn."
Isabel says she finds motivation in her sister and parents. Her parents' continuous support motivates her to continue to do better. Their struggle gives her the emotional strength to strive for something. Her sister also inspires her. Isabel continues to read over the conversations her and her sister had and how she always told her, "Never give up."
Students, at the time of their loved ones death, are overwhelmed with emotions which can lead to them not telling their teachers of what is going on in their life. Certain students are not as forthright as others. Some have trouble dealing with trust issues or do not have an open relationship with their teachers. This prevents students from being open with their teachers with the predicaments they face internally and externally.
We want students to know that people are out there that can help them, even if they feel embarrassed. The first step is acknowledging that you need help to overcome the death of your loved ones. You are not alone because there are many others that are experiencing loss just like you are. Just remember that they are in a better place, full of happiness and rejoicing in peace
Leave a Comment