Most teenagers wait impatiently to get their hand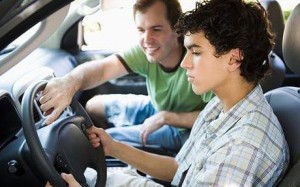 s behind the wheel. Teenagers constantly insist their parents for a glance on driving. Unfortunately for them, many parents will rather deal with their teens anger than risk a car accident. For those who are fortunate, they will be better prepared to receive a driver's license; however, some teens might let their arrogance get the best of them and commit infraction to the law or disobey parent rules. For example, your teen may pass the speed limit when your teen is with his friends.
Deciding when to allow teens to drive is a major controversy among parents. In California, one must be fifteen in a half years old in order to apply for a driver's permit; however, one must have completed a driver's ed course. Many teens may not have the time to enroll in a driver's ed course. No worry, a teen could receive its provisional license without taking a driver's ed course at the age of seventeen in a half. It is better to be prepare and take a driver's ed course because it can help save your life and the life's of others.
Are you a teenager that plans on receiving a driver's permit? Well then the first step is to study. Studying is very essential. Many people fail their exam on the first try. Before even walking into  the DMV, teenagers should use online practice tests because practice tests will better prepare you to pass your exam on your first try. After you finish your drivers ed course, you should then put your learning into action by applying for a driver's permit.
As a teenager it can be difficult to resist to drive, but every teen should take a driver's ed course. Kevin Hernandez, a junior stated, " I cannot wait to drive I plan on applying for a driver's ed course before receiving my driver's permit. Taking a driver's ed course should be taken in order to understand the basics of driving." Whether or not your parent gives you consent to drive, you should take a driver's ed course. Remember, the ability to drive comes with great responsibilities.
In the link below you will find a link to a practice test.
http://driving-tests.org/california/california-permit-practice-test/