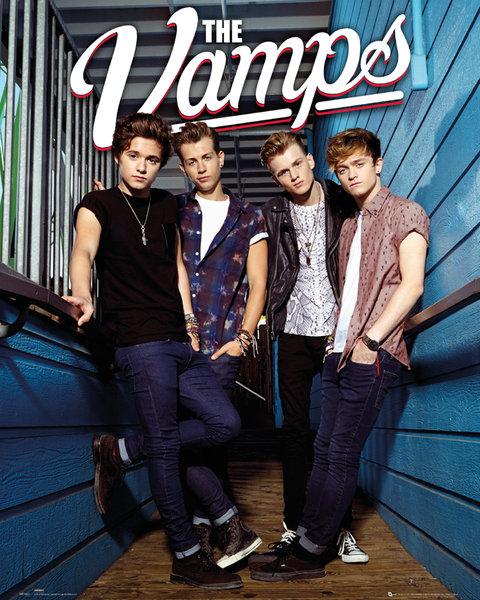 (Bradley Simpson, James McVey, Tristan Evans, Connor Ball)
          This boy band of four is already a U.K sensation with their top 3 singles and over 80 million views on their Youtube/VEVO channel. This British band has succeeded to sell out their February show within 10 minutes at the Gramercy Theatre in New York City. The Vamps not only have sold out their February show in New York, but they have also released their first U.S album on Island Records that they named
Meet The Vamps
that includes their catchy sing along song who made it to the top 10 in the U.S "Somebody to You" featuring Demi Lovato. Jonathan Villatoro, a sophomore at APB has said "I listen to them lot" and "I love them!" he has also said that the bands song 'Somebody to You'  is one of his favourites.    Link to
Somebody to You
:
https://www.youtube.com/watch?v=0go2nfVXFgA
          The Vamps is a British boy band made of the members being Bradley Simpson, James McVey, Tristan Evans, and Connor Ball. This band of four started off on Youtube in 2012 by uploading covers of songs like
Twist and Shout
by The Beetles and
22
by Taylor Swift. The Vamps then started being compared to the band of One Direction being British as well  and where then later in November signed to Mercury records. APB sophomore Jonathan Villatoro has said " I like how they started off on Youtube and then became huge through their covers"   Link to
Twist and Shout
(Cover by the vamps):
https://www.youtube.com/watch?v=Fj-ZBDSfYVs
Link to
22
(Cover by The Vamps):
https://www.youtube.com/watch?v=_CiyDlUle-8
        Later in 2013 The Vamps began join other singers such as McFly on their Memory Lane Tour and from there went to join other events in the UK with other singers like Demi Lovato, Little Mix and The Wanted. As the band began going to events, in the 29th of September, they released their single "Can we dance" becoming number 2 on the UK singles chart. After their first single, they released "Wild Heart" in January 18 and "Last Night" on February 24th of 2014.
Link to Can we dance: https://www.youtube.com/watch?v=UqSww10eeKw
Link to Wild Heart: https://www.youtube.com/watch?v=sCDdQwVRwxM
Link to Last Night: https://www.youtube.com/watch?v=WLyHSOXhZhY
Many students who haven't heard of this band and have listened to their song 'Somebody To You' for the first time have commented that The Vamps are great and have a catchy tune to their music, similar to what Erik Reyes a sophomore at APB saying how he likes the beat that The Vamps have. What do you think about the band? Comment below.