Every year the new graduating class has their own unique design on their senior sweaters that makes them stand out in school. The time has finally arrived when APB's seniors receive their long awaited senior sweaters.
Previous years the class of 2015 admired the sweaters of the past seniors and dreamed of getting their own. The old seniors had sweaters that were simple, nice and had their own customized design. Many of these 2015 seniors were excited for that reason because they could finally wear a sweater that was customized for them only.
Sweaters are supposed to be cozy, soft, and warm; however, this time the sweaters were not what the seniors expected. After the long wait in line to get their shirts and sweaters, many students were complaining that the "sweater" was not even a sweater but a long sleeve shirt with a hoodie. Many students disliked the material the sweater was made out of and were devastated on the money they had invested on it.
Senior Saul Perez says, "I was mad at the fact that it was a shirt with a hood because we were all expecting an actual sweater". Saul added, "It wasn't worth the money because I could have gotten a better sweater for $25 and I would most likely change the material because it's thin like a regular t-shirt".
An anonymous student said they did not like the sweater because they thought it was going to be an actual sweatshirt and not a thin shirt kind of sweater. In addition, they also said it was not worth the money because the sweater and shirt were the same material and that they had paid more for the sweater when both were the same. If they had the option to change one thing about the sweater, they said they would make it into a actual sweater but keep the design because it was nice and pretty creative.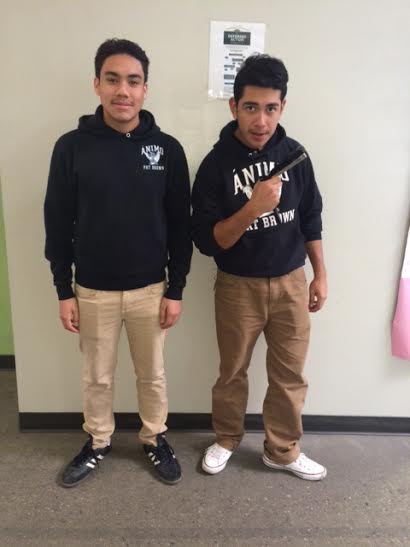 Student Jonathan Lemus says, "I like the new sweater […] concept, a little bit of freedom from what the usual black sweaters have to be in the school uniform". Since he bought it off the "black market" he says, "I got it for twenty dollars". "I would partly want to change the color of the gryphon, so that it doesn't look like it's fading away" says Jonathan, after being asked what was one thing he would change from it.
It is something very controversial among the seniors because many had different opinions about it, many did favor it while the other half despised it7. One student added that it was a good thing that they were thin because they could wear it when it started getting hot and it would not bother them as much. Eventually the students ended up wearing their sweaters even if they disliked it.