Los Angeles has been known for its widely over populated lowrider and car shows. In this event, cars are showed off to viewers who attend these cars meetings. Sometimes they would go cruising around the streets as a unit aka Car Clubs/Truck Clubs. The City of Angeles is known for their big streets; Broadway, Florence, Imperial etc. Clubs would cruise through the street and see others jumping their cars using hydraulics: of course this is performed only once in a while. However, as time went by many have taken cruising to new extremes. Cruising has now become into "takeovers" every weekend. Takeovers are said to be as many set up meets at a certain place in which clubs will wait until a lot of cars/trucks show up and then they roll out as a whole. They take the streets throughout Los Angeles County shut them down and begin to burn rubber in other words do donuts as is widely known. In some cases they shut down freeways and mess things up laying it down, causing damages to roads, private property, and to their own vehicles. This has caused for police officers to interfere trying to stop this madness.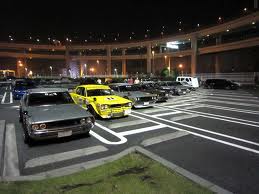 As interviewed in Fox news, Ted Moser says " Kids are going to do this, adults are going to do this, that is what they like to do, its like a sport to them just like any other sport". A wide population of people go against these actions while others enjoy of the excitement that this "sport" creates. Some say it is dangerous because anything can happen; "cars hitting people, fights going on, and sometimes shots are fired" Fox 11 says. On the other hand, others say that it is a time where people have fun, a sport that amuses them. A sport that favors them just in different conditions. Police are doing secret undercover operation stings to try and stop these takeovers. However, as Fox 11 News stated, some solutions for this to end is to make or open legal spaces made specifically for clubs to do all their burnouts.
Takeovers have become generally known because of their widely admitted title "Crenshaws Takeover". Marcella Barajas an APB student was interviewed, demonstrating her opinion towards this issue. Like many other opinions Marcella Barajas says " I think that its a good thing because everyone has their own interest. Its like the parades or like when somebody dies, they have to make way for people to do it. Its like a hobby to them. Its better for them to do it right now than to get arrested later on; It will create more problems. they should just let them do their own thing."  As well Marcella believed that a place should be reserved in order for these riders to expose their interest and sport. In a similar way Alejandra Campos also a student of Animo Pat Brown answered. When asked, Campos said "It is a good idea to open up places to cruise. More into it. Cruising is a sport for anyone. It is a sport because people think it's fun to show off their car. In these activities, you don't win anything but just represent your car/truck club, it causes no harm". Takeovers shouldn't be classified as a problem, it's a sport like any other. Like every sport, there is always danger, though cruising doesn't harm anything. Takeovers shouldn't be removed by police, instead an area should be specifically reserved for these shows, diminishing the amount of problems with police officers.
Everyone seems to have an interest, some include car races, or simply car shows in which an owner is able to show off car skills and parts. The ability to show what favors a person shouldn't be removed. A wide variety of enthusiasts seem to be interested in these activities and so a specific place in which will be secure, should be reserved only for these "shows". No stops in traffic and or streets will be the result of action being performed. Car shows should be able to expose their interest.
http://www.myfoxla.com/clip/11084948/la-street-takeover