By: Diana Aceves, Kayla Gonzalez, Kimberly Herrera, and Carlos Rodriguez
Banksy has finally opened his anticipated exhibit/theme park, Dismaland, which showcases art from over 50 street artists in the most depressing way possible.
Located in Weston-super-Mare, England, Dismaland made its grand opening on Saturday morning, to a large crowd of about 2,000 people. Curiously, this "amusement" park will only remain open to the public for five weeks. Despite its short permanence, the amusement has already been named the worst visitor attraction in the UK (which is what Banksy was going for).
Upon its opening, the art exhibit has been praised for living up to its title. In other words, Dismaland is truly a depressing theme park. Chaos roams the entire park. Banksy took a complete turn on the happiest place on Earth. Filled with broken, torn attractions and games that are impossible to win such as, "knock the anvil down with a ping pong ball," the renowned street artist has created a gloomy bemusement park. One can even spot the Grim Reaper having fun while riding the bumper cars. To add on, the exhibit's workers show no signs of enthusiasm and simply walk around with long, angry faces. In short, Dismaland is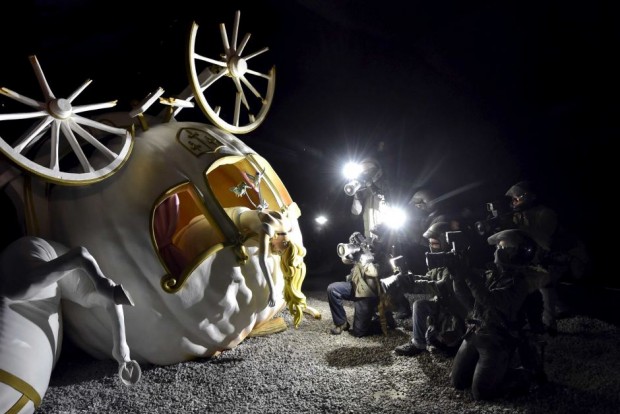 the tragic end of a fairy tale instead of its happy beginning.

When asked what was the theme of this exhibit, Banksy replied, "make theme parks, make bigger themes." Banksy immediately lives up to this by greeting visitors with the main attraction: the famous fairytale castle as a complete wreck. Alongside the attraction, there is a sculpture of Cinderella's carriage overturned due to an accident with paparazzi enclosing it. In today's society, paparazzi have succumb to dangerous methods in order to sell controversial images. Also, the sculpture criticizes how society does not care for tragedies, they simply want the best  photo for more ratings. Like other of Banksy's work, Dismaland depicts many controversial, global themes such as Western culture, the media, capitalism, and extreme disparities of wealth.
Accordingly, Banksy's exhibit has already stirred controversy. For example, Dismaland's merry-go-round horse, which is destined to become lasagna, depicts the controversial food scandal initiated by horse meat in supermarket ready meals.
In the past, Banksy has gotten into various controversies and problems due to his art, its messages, and its locations. Ironically, one of these controversies was at Disneyland in California where Banksy dressed a Mickey Mouse doll as a terrorist held in Guantanamo Bay and displayed in front of a ride. In another piece, Banksy walked into one of the most guarded borders in the world and spraypainted images of children with many balloons (one balloon shaped as a heart). As a result of these controversies and other factors, Banksy has kept his identity a secret in order to avoid legal prosecution.
However, if you had Mr. Botello for art class you might be familiar with Banksy. Botello might have displayed his artwork and seen Banksy's controversial film "Exit through the Gift Shop" in class. When asked about the melancholy theme park named Dismaland, Mr. Botello said he had partially heard about the exhibit. Given some time to glance at a few pictures, Botello gave his opinion on the exhibit.
"I would probably go for 4 bucks", he said considering that the ticket price is just under 5 dollars. Botello also expected this from Banksy: "As far for controversial, that is expected of Banksy".
Considering that this is Banksy's biggest art exhibit yet, Botello said it might be successful, "probably for some people, people love Disneyland.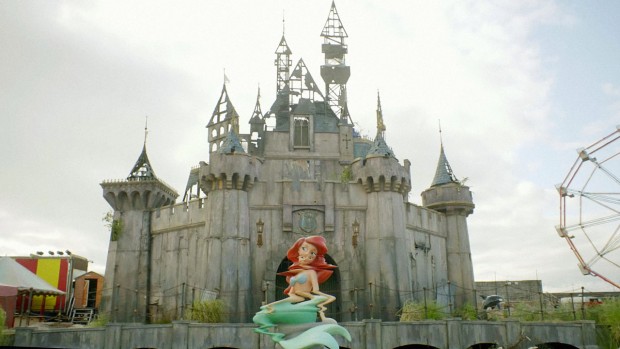 It's meant for kids and it's usually fun."  However, taking in mind this shows the depressing side of the happiest place on earth, it might be too inappropriate for some children.
After Botello carefully looked at some pictures of the theme park, he might actually teach this to his classes one day. "It definitely got my attention now," he said. Botello admires artists like Banksy who present political and social issues going on around the world through art and display it to the world.
Regardless of its depressing features, only time will tell if Dismaland is a great success and an inspiration for a new wave of art. After all, if Picasso's Blue Period did, why not Dismaland?