Which theme park is best for Halloween?
by: Jasmin Corona & Cindy Gonzalez
Halloween is approaching and is the time of year when theme parks compete against each other for visitors by preparing their most famous attractions and scarifying them. Each theme park has a different theme to their attractions. They want to attract visitors to come for the holidays.
Six Flags' Fright Fest is filled eye-catching attractions. Visitors are able to experience their thriller rides with the lights off! Along with frightening other events like Territory Twisted, Demos Door, Tatsu in the Dark, Nightmares and several other events! If you like that tingly feeling in your stomach, then you'll love these thrill rides! Even better in the dark with scary creatures surrounding you!
However, if you're not into big thrill rides then maybe this isn't the place for you. Perhaps Universal Studios Hollywood Horror Nights.
Horror Nights is the definition of horror. There are over 6 mazes to go through: Halloween Michael Myers comes home, Insidious, The Walking Dead, Aliens vs. Predators, Crimson Peak,This Is The End, and the Terror Tram: Survive the Purge. All based on classic and in-theatre films. But that's not all. Mazes and rides are included. Not only are you given the chance to pee your pants, but you can also ride their famous rides: Transformers, The Simpsons, Despicable Me, The Mummy Ride, and Jurassic Park. To top it all off you get to go through the scare zones that are meant to scare your socks off! So, if getting scared is your intention this theme park is most definitely for you.
Of course, if neither of these are for you there are other choices to choose from. If you don't like being scared or anything thrillers or horror related then Disneyland Halloween Time is for you. Celebrate the season with the Haunted Mansion Holiday with Jack skellington from A Nightmare Before Christmas. One of their thrill rides, Space Mountain, becomes haunted and you're launched into the universe of Ghost Galaxy. If you're into the Halloween holiday special events, stroll into Main street, U.S.A, where there is a pumpkin festival with hundreds of carved  pumpkins. You can also discover the thrills and chills of Disneyland on the Disney's Happiest Haunts Tour.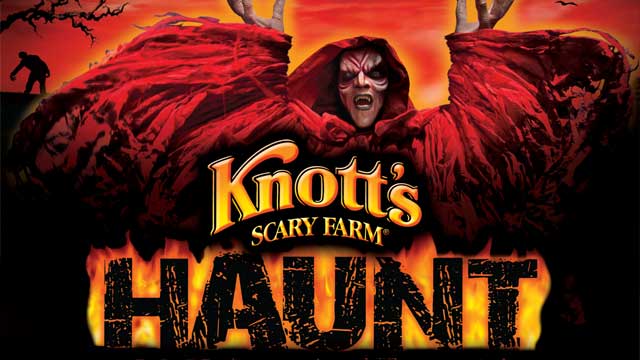 But also if you're into the season of Halloween, Knott's Scary Farm may also interest you. They have 2 thrilling shows, 11 mazes, and over 1,000 monsters. Knott's scary Farm has more than just rides but thrilling holiday events to get your chills traveling throughout your body and feeling the adrenaline. One of the new scare zones, My Bloody Clementine, is one of the most terrifying scare zones this year. Travel the beloved Calico Mine Ride, but keep your eyes peeled for the ghost of Clementine. Scare actors return to the Mine seeking revenge to those who may have brutally murdered Clementine and her father centuries ago.  There is many places to go visit during the Halloween season, which one will you visit to this year?