El Niño
By: Kimberly Herrera, Diana Aceves, and Alexis Sanchez
One of the most anticipated storms, El Niño, has finally reached Southern California.
El Niño is a storm that   is caused by the Pacific Ocean heating up sending the heat to the atmosphere that causes abnormal weather around the world. While Asia and Australia heat up bringing heat waves and wildfires the South America and the Southern U.S get heavy rainfall that brings the storm, El Niño. The powerful storm just struck Southern California with heavy rainfall, floods, and mudslides. Due to the five-year drought California has experienced, the rainfall is actually beneficial to the drought and the crops. Although the storm was anticipated, Californians  didn't expect the storm to hit so hard, so fast. Therefore, it made it difficult for students get to school due to the flooded streets and the traffic.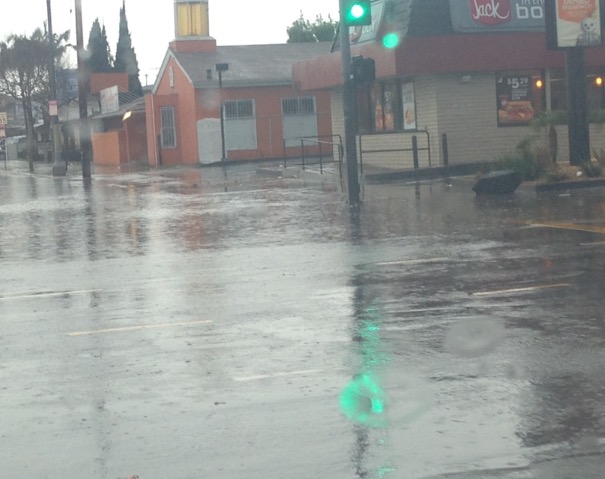 Parents patiently waited for their children Monday, Tuesday and Wednesday afternoon. However, many grew impatient; it was difficult for parents to pick up their children because there was an unforeseeable amount of water just outside the school gates which made difficult for APB students to get into their parent's car.
Students that walk to and from school have been the ones that were most affected by the storm. Sophomores Gisselle Valle and Chris Manzo are two of the many that walk home.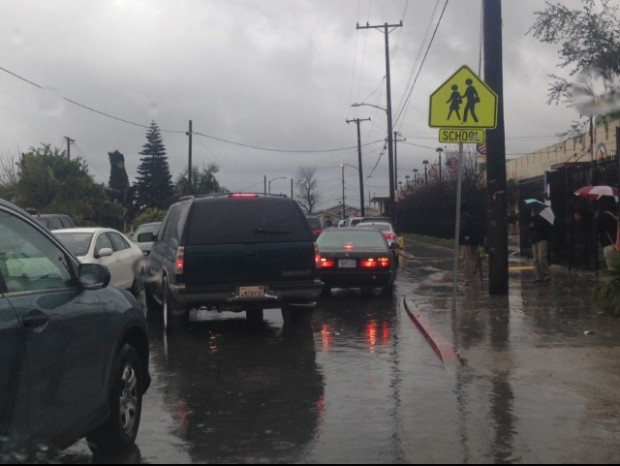 "When I walk home, it's hard to cross the street because of the deep puddles," said Gisselle.
The rain has also caused APB students to come late to school or not come at all.
"Students may get to school late because of the rain, they should be excused from Lunch Give Back," said Chris.
Animo Pat Brown's principal, Mr. Hartford, has already begun noticing the effects El Nino has had on APB attendance.
"We have had a large, abnormal amount of students who have missed school on Monday, Tuesday, and Wednesday", said Hartford.
He explains that the only reason the school would close would be if the building becomes unsafe for students.
Parents should not worry for their children's safety at APB because "In the event of flooding or other disasters, a decision would be made that puts the safety of students first," said Hartford.
Before the storm reached California, Green Dot has worked to assure student's safety. "We have done some maintenance on the roof and cleared all the storm drains, we have tried to be prepared as we can," said Hartford.
The storm caught many residents unexpectedly as a result, many students did not attend school. As El Niño hit Southern California, it brought drastic rainfall causing mudslides and floods, however it helped the long-term drought that has caused many wildfires. El Niño was expected to hit for 2 weeks however, it was only experienced for only three days.
Leave a Comment