Mr. Pickering is the Teacher of the Year
By: Silvia Padilla & Carlos Ruvalcaba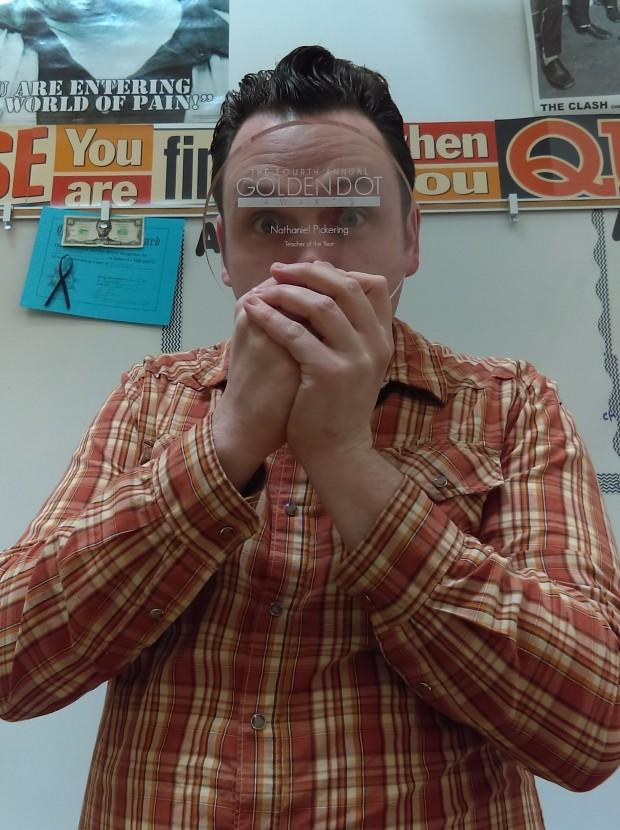 On April 12th, Nathaniel Pickering has been awarded Teacher of the Year by Greendot Public schools. He has been recognized for his great achievements and amazing teaching skills and has earned this award that he so greatly deserved.
One of the highlights of his career is that he creates relationships with his students.
"He always help students wherever they are in need in terms of education and personal problems," said 11th grader Diana Aceves, "Always reassuring that they can come to him for help." Diana says Pickering is available three times a day to talk about education or anything on your mind, unlike any other teachers that are usually available. She believes that "He's been very helpful throughout the year and he has helped my confidence in writing and he very well deserves this award." Juniors and seniors have the same positive opinion about Pickering, "Mr. Pickering gives you lot of responsibilities and doesn't treat you as a child but as an adult," said 12th grader David Padilla, "Overall, he is a very good teacher and he is pretty funny."
Finally what you may have been waiting for, Pickering's view on this all. "I did not expect it but it was a nice surprise. If the award was for, loving to be a teacher then I think I would be qualified. This is the most fun and most rewarding job that I can think of having. It's not like a sport but it is a profession and i am very passionate about it." What's an award without a speech, Pickering finishes by saying, "Thank you for all the kids and the staffs for awarded me as the teacher of the year. I've drawn all of my inspiration from my students and I don't think I would be as effective if i didn't have the support from this community".
This goes to show that Animo Pat Brown has the best teachers available to teach us, we should be thankful and respect these teachers as they are trying their hardest to get us college ready and college bound. Mr. Pickering has been awarded the Teacher of the Year by Green Dot Public schools indicating that he is the best teacher of all Greendot and has been recognized for it.